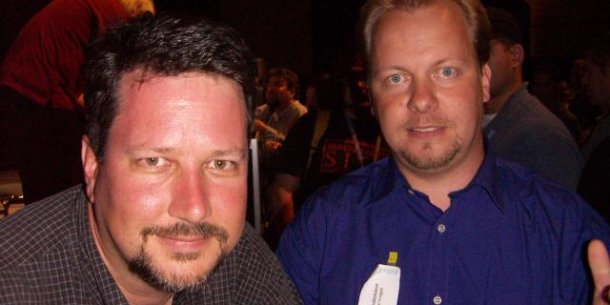 Zap Andersson (right, with ILM VFX Supervisor John Knoll), pictured at Siggraph 2005.
Autodesk has hired shader wizard Håkan 'Zap' Andersson to work on integration of mental ray into its products.
As well as being a long-term employee of mental images (and later, Nvidia) Andersson runs one of the best mental ray tips blogs out there, so the move should be good news for anyone who has ever been frustrated by the way mental ray works – or sometimes, doesn't work – in Maya or 3ds Max.
According to his blog post: "Integration of mental ray and iray into Autodesk products have always been… problematic. Integration work was done by Autodesk, but there was never a dedicated person with enough know-how of the nitty-gritty details to handle it (or sometimes simply not enough priority put on it)."
Andersson starts at Autodesk on Monday.
Read the full post on Zap Andersson's blog
Tags: 3ds max, autodesk, iray, job, Maya, mental images, mental ray, NVIDIA, Zap Andersson