Saturday, August 20th, 2022

Posted by Jim Thacker
Luxion ships KeyVR 11.1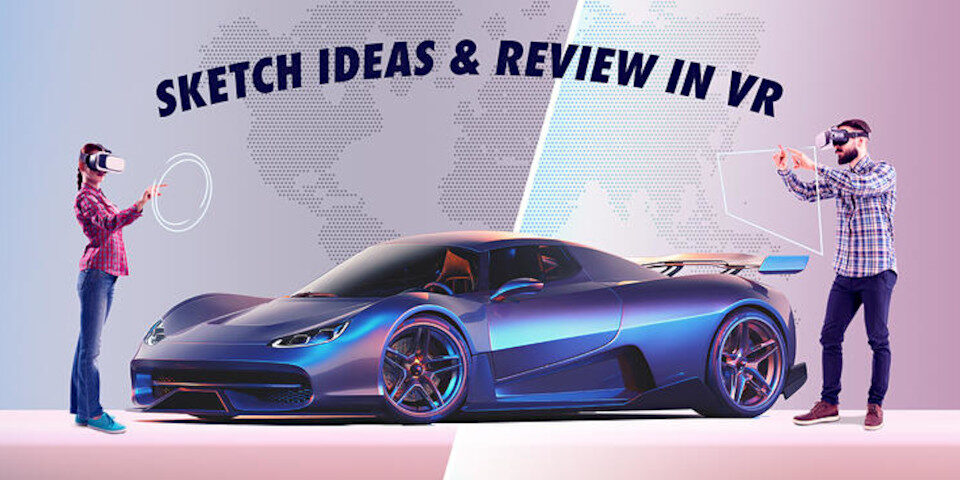 Luxion has updated KeyVR, its "one-click solution for VR experiences" based on its KeyShot renderer.
KeyVR 11.1 adds a new Sketch tool for annotating models in shared virtual reality design review sessions, and switched the software from OpenVR to OpenXR.
View any existing KeyShot scene in virtual reality
First released in 2019, KeyVR makes it possible to explore KeyShot scenes in virtual reality, changing model sets, materials or environments interactively, or playing back animations.
Luxion pitches the software both as a way for users to assess designs and a way to present them to clients, with subsequent updates adding support for multi-user sessions, a feature it calls KeyVR Connect.
Not all of KeyShot's features are currently supported: you can find a breakdown table here.
New in KeyVR 11.1: new Sketch tool lets you annotate models in VR design review sessions
New features in KeyVR include the Sketch tool, which – as well as simply creating sketches in VR – makes it possible to annotate models in shared virtual reality design review sessions.
Sketches are retained when users move around a scene or rescale the view, and can be saved for reference.
The update also switches the software from Valve's OpenVR API to the new OpenXR open standard, described by Luxion as "more modern, stable, and maintainable".
The switch makes it possible to support the wireless Air Link streaming system on Oculus Quest 2 headsets.
As well as Oculus headsets, KeyVR continues to support SteamVR-compatible headsets like the HTC Vive series and Valve Index, plus Varjo headsets, and Windows Mixed Reality devices.
Pricing and system requirements
KeyVR 11.1 is available for Windows 8+ or Windows Server 2012+. It is rental-only, and costs $1,188/year.

Read an overview of the new features in KeyShot VR on Luxion's blog