Unity Technologies has become the latest major DCC software developer to revamp its brand identity, unveiling a new logo for both the company itself and the Unity game engine.
The new identity, which will roll out to all Unity products over the coming months, also features animated 3D logos for Unity Technologies' other primary products.
A 'meeting of technology, creators and incredible experiences'
Although Unity has made incremental changes to its logo since adopting its current company name in 2007, this is the most major change to the design to date.
As with the new Autodesk logo, both the logomark and wordmark have been updated, albeit in ways that will be more immediately familiar to long-term users.
The new logomark retains the general form of the old Unity cube, but rotates and thickens its axes.
According to Unity's blog post, the directional arrows represent "the infinite possibilities that Unity puts in the hands of all who use our solutions".
"Symbolically, it's where our technology (the X axis), Unity creators (the Y axis), and the incredible experiences they create (Z axis) intersect."
The changes to the wordmark are more subtle, aside from the new capital 'U', giving it "more maturity".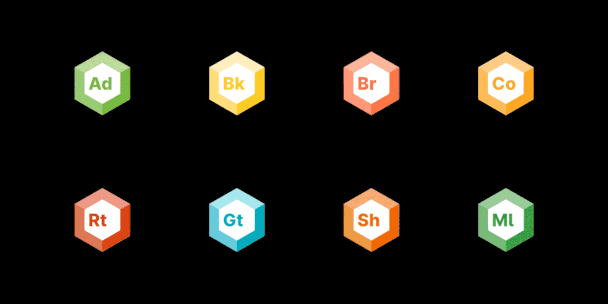 New animated 3D logos for Unity's rapidly expanding stable of products
One of the aims of the new brand identity is to reflect Unity Technologies' growth from a single-product company to one with a growing list of products, many from a recent string of corporate acquisitions.
As such, another part of the new brand identity is the set of animated logos for the new products.
In their initial states, they're hexagonal logos derived from the silhouette of the Unity cube, with two-letter products codes similar to those used by Adobe.
Each then rotates to reveal a more complex 3D form reflecting the nature of the product in question.
The firm's product page now lists well over 30 tools and services, ranging from CAD data import and material-generation to in-game advertising systems and multiplayer server hosting.
However, perhaps thankfully for the firm's designers, Unity says that it only plans to roll out the new animated 3D logos to its "primary products".
At the time of writing, only the main Unity logo appears on the company's website, but the rest of the changes will be rolled out "over the coming months and into next year".
Polarising user opinion
As is often the case with rebranding exercises, initial user response to the changes has been divided.
Some commenters have welcomed the new logo; others preferred the old one; and still others think that any money spent on rebranding could have been better used for product development.
If you're in the former camp, you can dig into the design details of the new logos and the values that they are meant to embody in Unity's online brand guide.
Read Unity's blog post announcing the new logo and brand system
Tags: animated logo, logomark, new branding, new logo, new Unity logo, product logo, rebranding, Unity, Unity cube, Unity Technologies, wordmark