3Dflow has released 3DF Zephyr 5.0, the next major version of its image-based modelling software, significantly improving performance and adding support for out-of-core meshing.
The two high-end editions of the software, 3DF Zephyr Pro and 3DF Zephyr Aerial, have been replaced by a single edition, simply called 3DF Zephyr, available as a monthly subscription as well as a perpetual licence.
3Dflow has also released 3DF Scarlet, a new standalone edition for registering laser scan data, bundled free with the full edition of 3DF Zephyr.
Major improvements to performance and mesh quality
3Dflow describes version 5.0 as "the biggest technology update that 3DF Zephyr has ever received in a single release", improving both the performance of the software and the quality of the results it generates.
Samantha, the software's Structure from Motion (SfM) component, is now "significantly faster" with large data sets: those comprising 1,000 images or more.
3Dflow's own benchmark tests show Samantha processing a data set comprising over 3,000 images around 2x faster in version 5.0 than in version 4.5, the previous release.
Sasha, the software's meshing framework, now supports out-of-core processing, meaning that it is no longer limited by GPU memory: something 3Dflow describes as "probably be biggest bottleneck" in version 4.5.
According to the firm, the change improves both speed of processing and memory usage; while a new photoconsistency filter reconstructs "much more beautiful and realistic sharp edges" in the mesh.
In addition, WIC (Windows Imaging Component) is now the software's default imaging engine: 3Dflow describes it as "much faster" for loading TIFF files and RAW images than the existing engine.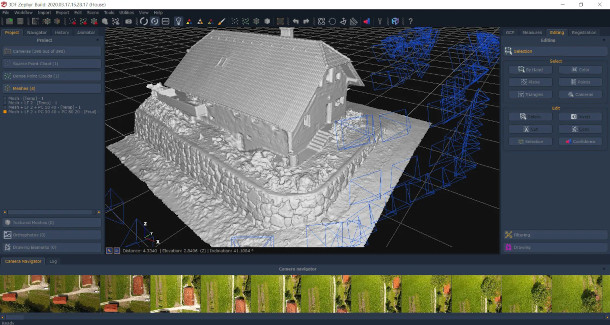 Interface updates, 'quality of life' tools and spline drawing features
Workflow and interface improvements include a new utility bar, shown at bottom of the viewport in the image above, providing access to key tools and measurement information.
There is also a new wizard for merging workspaces and several "quality of life" improvements, described in more detail in this blog post.
Users of the full edition also get new drawing features, including the option to draw splines in the 3D viewport. The splines are preserved when exporting data in DXF format.
Advanced features now available as a single high-end edition
With 3DF Zephyr 5.0, the two high-end editions of the software, 3DF Zephyr Pro and 3DF Zephyr Aerial, have been "unified into one solution", simply called 3DF Zephyr.
Its price is identical to that of 3DF Zephyr Aerial, the more fully featured – and more expensive – of the two, so effectively, 3DF Zephyr Pro has just been discontinued, but according to the video above, existing Pro users will be upgraded to the new unified edition.
As well as the existing perpetual licence, the new edition is available via a new monthly subscription.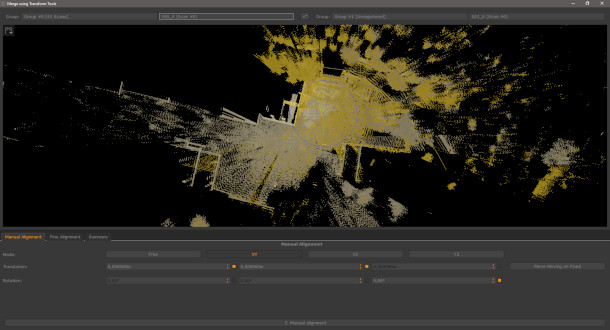 3DF Scarlet: new standalone tool for registering laser scan data
Users of the full edition also get access to 3DF Scarlet, a new dedicated standalone application for registering laser scan data, bundled free with 3DF Zephyr.
Although alignment tools are already available natively in 3DF Zephyr, 3Dflow describes the option to create separate projects for laser scanner data as a "smooth and organised workflow".
3DF Scarlet also provides "a more pleasant experience" when working with large data sets, with support for dynamic loading and unloading of scan data and an automated scan alignment system.
It supports "most common laser scanner formats", including E57, PTS, PTX and PLY, along with the native file formats of major scanner manufacturers, the latter via separate plugins.
Pricing and availability
3DF Zephyr 5.0 is available for 64-bit Windows 7+. The software is CUDA-based, so to make use of its GPU-accelerated features, you need a suitable Nvidia graphics card.
The free version includes a basic range of tools, works with up to 50 source images or video frames, and runs on a single GPU; the $169 Lite edition supports up to 500 source images and two GPUs.
The full edition supports unlimited source images and multiple GPUs, and adds advanced features. A perpetual licence costs $4,200; subscription costs $290/month.
Read a full list of new features in 3DF Zephyr 5.0 on 3Dflow's blog
Tags: 3DF Scarlet, 3DF Zephyr, 3DF Zephyr 4.5, 3DF Zephyr 5.0, 3Dflow, aerial, DXF, E57, fine detail, free, image based modeling, laser scan data, laser scan data registration, laser scanner, Lite, meshing, new features, out of core, photoconsistency filter, Photogrammetry, PLY, price, Pro, PTS, PTX, RAW, Samantha, Sasha, scan alignment, SfM, spline, Structure from Motion, subscription, system requirements, TIFF, WIC, Windows Imaging Component