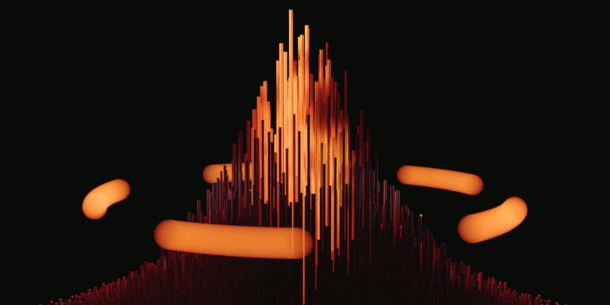 A 4D noise effect generated with DeepC, a new set of open-source deep compositing plugins for Nuke.

Check out DeepC, a promising suite of open-source deep compositing plugins for Nuke, created by Mr. X compositing department manager Charles A Taylor.
The plugins, which provide finer control over tasks like matte creation than Nuke's native tools, are designed to make deep compositing workflows accessible to smaller studios.
Bringing big-studio deep compositing workflows to smaller facilities
In his Nuke resource Ben's Comp Newsletter – from which we first heard about the DeepC toolset – Image Engine lead compositor Ben McEwan notes that "a lot of studios are adopting deep compositing without an adequate R&D budget to back up the decision".
DeepC is designed to address that problem, making the type of deep compositing tools developed at larger facilities available to small and mid-sized studios.
It currently comprises 10 separate plugins, all designed to provide more control over the deep compositing process than Nuke's built-in tools.
Key plugins include DeepCPMatte, which creates a spherical or cubic mask from deep position data, and DeepCNoise, which generates a noise mask.
It supports 4D simplex noise as well as a range of 3D noise types, meaning that the noise pass can evolve from frame to frame without sliding.
The resulting masks can then be used DeepC's other plugins, like colour grading tool DeepCGrade.
For 3D renders that don't come with a deep position pass, DeepC also includes DeepCWorld, which generates world position data from deep renders and a camera node alone.
System requirements and availability
DeepC is available for Nuke 11.2+ under a GPL licence. Compiled binaries are currently available for Linux only: Windows binaries are possible in future builds, but macOS support is "unlikely".

Read more about DeepC in the open-source Nuke plugins' GitHub repo
Download compiled Linux binaries of DeepC
Tags: 4D noise, compositing, deep compositing, deep render, DeepC, DeepCGrade, DeepCMatte, DeepCNoise, DeepCWorld, download, free, generate mask, nuke, open source, plugin, system requirements