Adobe has released Photoshop CC 20.0, the latest version of the image-editing software, extending Content-Aware Fill, adding an InDesign-style Frame Tool, and making some long-awaited workflow changes.
The release, also referred to as Photoshop CC 2019, shipped at the Adobe MAX 2018 conference, alongside After Effects CC 16.0, Character Animator CC 2.0, Dimension CC 2.0, Premiere Pro 13.0 and its new sister app Premiere Rush CC, and new versions of Illustrator, InDesign, Lightroom and XD.
Adobe has also announced that 'real' Photoshop CC will also become available on iPads. The new iPad edition, which uses the same code base as the desktop version of the software, is currently in beta.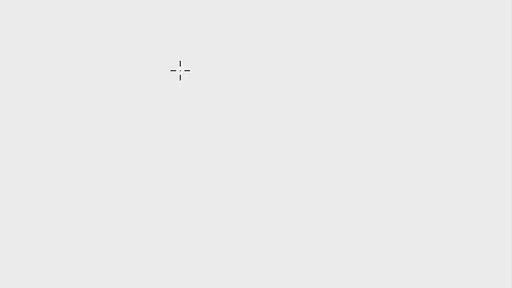 New InDesign-style Frame Tool for cropping and resizing images
Photoshop CC 20.0 itself isn't a huge update – at least, not in terms of new toolsets.
The biggest completely new feature is the new Frame Tool, which enables users to resize and crop images by creating a placeholder frame and dragging them into it, with Photoshop rescaling the image to fit.
The workflow should be familiar to anyone who has used InDesign, or similar page layout tools.

Improvements to Content-Aware Fill
The existing Content-Aware Fill system has also been overhauled, getting its own dedicated workspace with a real-time preview showing the result of the fill operation.
Users can also now choose which pixels from the source image to use in the fill calculation, with a simple brush-based workflow to mask out unwanted parts of the image: usually foreground objects.
Symmetry Painting now officially out of tech preview
The Symmetry Painting feature, which enables users to mirror brush strokes along one or more axes of symmetry, is also now out of tech preview, and is officially part of Photoshop.
It's capable of creating some quite complex patterns: as well as multiple linear axes of symmetry, it supports curved, circular and spiral axes, making it possible to paint mandala-like designs.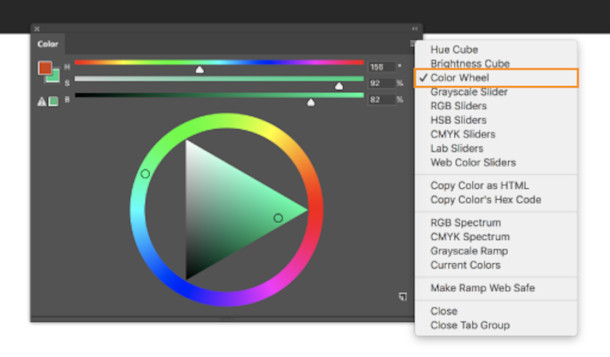 Lots of long-awaited workflow improvements, including standard multiple undos
However, the largest section of the online documentation – and, arguably, the thing that will make most difference to most Photoshop users' day-to-day work – is the workflow improvements.
One of the biggest is handling of multiple Undos: you can now keep hitting [Ctrl]-Z or [Cmd]-Z to undo successive changes, rather than having to hold down an extra key, or fiddle around in the History stack.
Adobe describes the new Undo workflow, which is enabled by default, as being "just like in other Creative Cloud apps", but really, that could be rephrased as 'just like in almost any other creative app'.
Another is the addition of a Painter-style Color Wheel for picking colours, which previously required third-party plugins like MagicPicker or Coolorus.
Images and type layers also now transform proportionally by default, without having to hold down [Shift].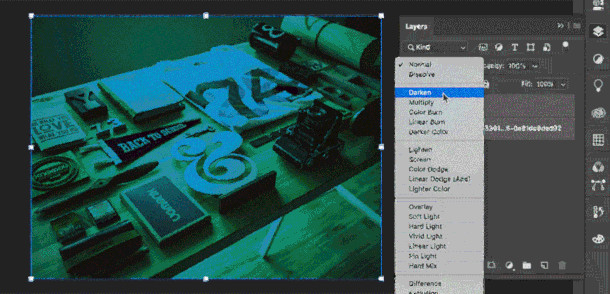 More quality-of-life improvements and user-requested features
Other nice quality-of-life features include a live blend mode preview (above), which shows the result of layer blending operations simply by scrolling over the different blend modes in the drop-down.
It is also now possible to double click in a text box with the Move tool to begin editing text, rather than having to switch to the Text tool in the interface or via keyboard shortcuts.
In addition, text edits auto-commit: there is no longer any need to click the Commit button in the Options bar.
Other changes include Illustrator-style Distribute Spacing, which arranges different-sized objects with consistent spacing between them, the option to see full layer names by mousing over them in the Layers panel, and the option to use simple mathematical expressions in numerical fields.
You can see a full list of workflow changes in the online documentation, along with details of the new Home screen and improvements to in-app tutorials.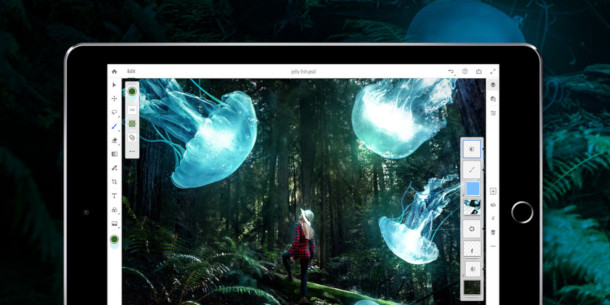 'Real' Photoshop coming to iPads as well as desktop PCs next year
In separate news, Adobe has announced that 'real' Photoshop – that is, the code base from the desktop edition, not cut-down apps like Photoshop Express – will soon be available on iPads.
Although Adobe says that the iPad edition will initially have a "smaller set of features … so we can ship the 1.0 version to you quickly", it plans to "gradually add the rest over time".
In particular, the iPad edition will support the full PSD file format, meaning that files should be "seamlessly synced to the desktop", without the need to do any manual conversion on export or import.
Adobe also says that it has been "completely rethinking the user experience for a modern touch device", with support for touch gestures, but we haven't found any footage of the new workflow yet.
Pricing and availability
Photoshop CC 20.0 is available for Windows 7+ and Mac OS X 10.12+ on a rental-only basis.
Photography subscription plans, which include access to Photoshop CC and Lightroom CC, start at $9.99/month for an annual plan; subscriptions to all of Adobe's creative tools now start at $52.99/month.
Photoshop CC on iPad is "coming in 2019". You can register for news updates here.

Read more about the new features in Photoshop CC 20.0 on Adobe's blog
Tags: Adobe, Adobe MAX 2018, auto commit, blend mode preview, color wheel, Content Aware Fill, Coolorus, Distribute Spacing, expression, Frame Tool, InDesign, iOS, iPad, layer blending, MagicPicker, multiple undo, new features, October 2018, Photoshop, Photoshop CC, Photoshop CC 20.0, Photoshop CC 2019, Photoshop Express, Photoshop for iPad, price, Proportional Transform, radial symmetry, symmetry painting