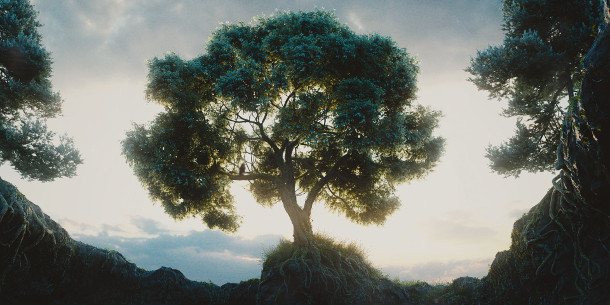 Originally posted on 21 October 2016. Scroll down for news of Release 4a.
F12 – aka developer Wybren van Keulen – has shipped The Grove Release 4, the latest update to his promising Blender-based tool for generating realistic tree models.
The update adds support for conifers as well as broadleaved trees, the option to 'prune' models interactively with the grease pencil tool, physically correct branch bending, and a built-in raytracer for shading effects.
Mimic the growth forms of real trees
The Grove takes a parametric approach to generating trees, with controls that mimic the factors determining the forms of real plants, resulting in more realistic-looking models.
Once the overall form of a tree has been set, The Grove fills in details by using 'Twigs': instanced geometry representing not only actual twigs, but leaves, flowers and fruit, sold separately to the core app.
The software is a Blender add-on, but the resulting textured geometry can be exported in standard file formats, including FBX and OBJ, for use in other DCC applicaitons.
Better replication of the growth forms of conifers
One major new feature in Release 4 is support for conifers – which, in The Grove's terms, means the addition of the key parameters that generate their typical growth forms.
If you want the full biological details, you should check out the release notes, but F12 says that the new parameters should also improve the realism of the broadleaved trees The Grove generates.
The update also introduces a built-in raytracer – not for rendering, but for calculating shadowing effects in order to mimic the growth responses of real trees to light.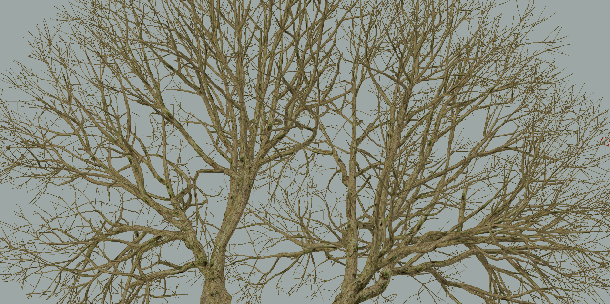 Prune trees interactively in the 3D viewport
Other changes include the option to reshape trees interactively by drawing strokes with the grease pencil tool in the 3D viewport representing lines along which branches will be cut off.
The system that mimics the bending of branches under gravity has also been "completely rewritten", which should improve the realism of species with dangling branches, like weeping willows.

Updated 1 December 2016: F12 has released The Grove Release 4a, a new update building on Release 4.
It's largely a bugfix update, but we thought it was worth including here because of the 100% speed boost it promises: according to van Keulen, trees now grow twice as fast. You can find more details here.

Pricing and availability
The Grove is available now for the current release of Blender running on Windows, Linux and Mac OS X. The base application costs €109 (around $119), while individual Twigs cost €9.60 ($10.40) each, excluding tax.
Read a full list of new features in The Grove Release 4 on the product website
Tags: branch bending, broadleaved, conifer, F12, growth parameter, interactive, new features, performance, plant, price, pruning, raytracer, shadowing, speed, The Grove, The Grove Release 4, The Grove Release 4a, tree, tree generation, tree modeling, vegetation, Wybren van Keulen