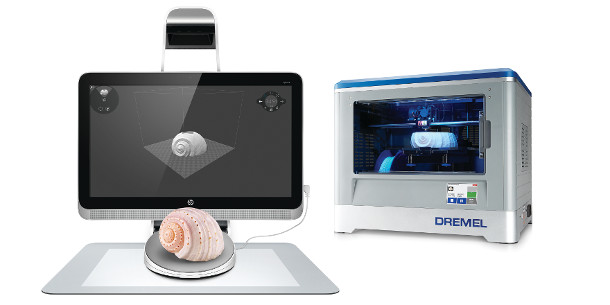 Originally posted on 12 June. Scroll down for updates.
HP has announced new tools for Sprout, its all-in-one desktop PC/touchscreen/3D camera system, that will enable the hardware to generate true 3D scans of objects placed beneath it.
Sprout: a quick recap
Released late last year, Sprout is a desktop-sized Windows 8 PC with a 23″ touchscreen display. Mounted over the display is a unit combining an Intel RealSense 3D camera, 14-megapixel digital camera, and projector.
The cameras and projector are trained on a base that doubles as a scanning mat and an additional touch/stylus control surface, although it also comes with a Bluetooth mouse and keyboard if you insist on being traditional.
HP calls the resulting conglomerate an 'immersive computer', a 'creativity station' or a 'blended reality' system, depending on which of its marketing blurbs you're looking at.
So what's new?
While Sprout currently comes with a 3D Snapshot app for recording objects placed on the Touch Mat, it doesn't actually capture a 3D scan: just a 2D image of the uppermost side of the object.
To that, HP is now adding a new 3D Capture application capable of generating actual 3D scans.
HP's press materials don't go into a lot of detail about 3D Capture's feature set, but as well as generating the 3D model, it seems to include basic tools for cleaning up artefacts.
Scanned models can be shared in an online 3D viewer, or output to a 3D printer: HP is working with Dremel to provide an "end-to-end scan to print solution" with Dremel's 3D Idea Builder printer.
Optional USB-connected turntable
The software itself is a free update, but if you don't want to reposition the object you're scanning manually, HP is also releasing the 3D Capture Stage, a $299 USB turntable peripheral.
As well as rotating the object horizontally, the turntable tilts it by 15 degrees vertically, to minimise blind spots.
Like the Sprout itself, it's aimed more at the maker/home user market than entertainment work, so don't expect to scan anything huge: the turntable will handle objects up to 4.4lb (2kg) in weight or 7.5″ (190mm) in height.
Pricing and availability
Sprout itself is available now at an MSRP of $1899.99. The scanning software is free, and will form part of an automated system update in July. The 3D Capture Stage costs $299, and will also be available in July.
Updated 16 June: We got in touch with HP for some more technical details about Sprout's 3D scanning capabilities. It's an interesting process, making use of both the RealSense and standard cameras.
HP told us: "For the faster pre-scan, the Intel RealSense camera is used, which is a real-time IR active structured light technology. The multiple IR frames are analyzed at up to 60 fps to obtain a depth map.
"For the high-resolution final scan, Sprout's 14.6 MP camera is used with the DLP projector to project a series of horizontal striped patterns that are analyzed to create a depth map with corresponding color texture map.
"To create manageable file sizes, the camera's images are downsized and the mesh density in the final model is decimated to achieve the best balance between quality and file size."
The process has a typical resolution of 0.5mm, and can capture objects of around 200x200x200mm, if you don't need to sit them on the turntable. You can output files in OBJ format, complete with textures.
Read HP's official announcement about the new 3D scanning tools for Sprout
Tags: 3D camera, 3D capture, 3D Capture Stage, 3D scanning, 3D Snapshot, creativity station, HP, immersive computer, price, RealSense, release date, specifications, Sprout, touchscreen, turntable, USB, workstation