Thursday, May 29th, 2014

Posted by Jim Thacker
CG Cookie to launch first Blender-only asset store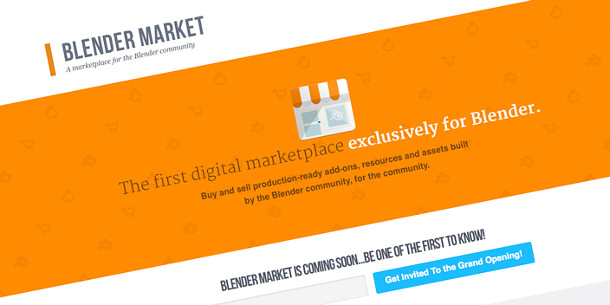 Training site CG Cookie is to launch Blender Market: the first online marketplace for CG assets devoted exclusively to Blender. As well as models and textures, the new site will sell Blender scenes, shaders and tools.
The site, which is due to launch in the next few weeks, will offer vendors 70% of the proceeds on every sale they make through it: roughly in the middle of range of commission rates charged by other marketplaces.
What marks it out as a venture tailored to an open-source community is the option for vendors to assign a percentage of each sale to the Blender Development Fund, set up to foster development of the software.
CG Cookie will also donate an additional 5% of each sale made through the site in the first 90 days.
Intended to foster community development
According to CG Cookie co-founder Jonathan Williamson, one of the aims of the site is to encourage the increasing number of professional Blender users to share assets, accelerating community development:
"By providing a way for artists and developers to distribute valuable resources to the community, while also being paid for their work, I believe that we can push ourselves … and Blender development even further."
A commercial alternative to Blend Swap
The new site will form a commercial counterpart to Blend Swap, the popular free Blender asset library founded by CG Cookie team member Matthew Muldoon.
"[Blend Swap] was never meant to support customers or vendors," he posted in the comments thread for the announcement. "We don't have the time nor manpower to thoroughly screen every model uploaded."
"Many of the top users on Blend Swap leave the site once they hit the top 5% of the talent pool on the site. I would imagine that it's because they are acquiring more freelance work or have obtained a job with their skills."
"The Blender Market will give these artists and many others a place to make a living using Blender."
Updated 11 June: The Blender Market site is now live.
Read the announcement on CG Cookie