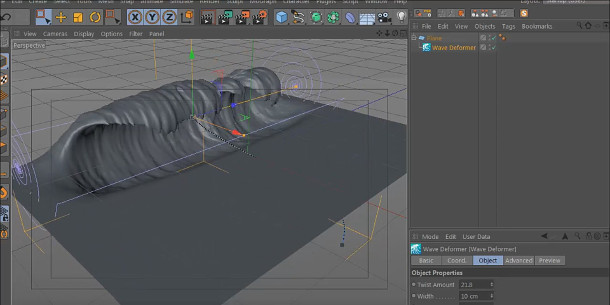 A still from the demo movie for Johannes Kollender's free Wave Deformer plugin for Cinema 4D. Because of its privacy settings, we can't embed the full movie here, but you can watch it on Vimeo.
Freelance motion designer Johannes Kollender has released Wave Deformer, a neat little free Cinema 4D plugin that implements a Tessendorf wave as a deformer in Cinema 4D.
The tool will create a realistic animated wave from any polygonal object. It's based on a Python version created by Vidar Nelson of Creative Tools, but offers better performance with high-poly geometry.
Wave Deformer works in Cinema 4D R14 and R15 on Windows and R15 on Mac.
Download Wave Deformer for Cinema 4D
Tags: animated, Cinema 4D, Creative Tools, deformer, free, Johannes Kollender, ocean, plugin, Vidar Nelson, water, wave, Wave Deformer