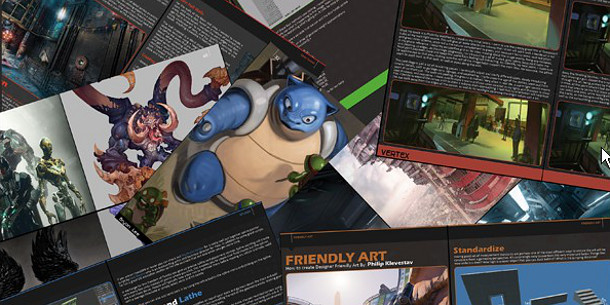 Art By Papercut – aka Quixel's Ryan Hawkins and Ubisoft Sweden's Emil Mujanovic and Derek Burris – has released Vertex 2, a free 300-page eBook packed with tips and tutorials for games artists.
Written by working artists at studios including Blizzard, Crytek, Gearbox Software and Ubisoft, the book provides an impressively diverse set of training. Concept design, modelling, sculpting and texturing are all covered in depth, but lighting artists and animators will find content aimed at them, too.
There are also a couple of more general articles, including one on Far Cry 3's level design, a detailed making-of for a personal project recreating a BioShock environment inside CryEngine 3, and even tips on outsourcing.
Most of the articles are non-software-specific, but there are a few aimed at UDK, World Machine and ZBrush.
Vertex Volume 1 is also available from the Art By Papercut website. If you like the series, you can support Art By Papercut by liking their Facebook page, or using the PayPal donation link at the back of the ebook itself.
Visit the Art By Papercut website
(Includes download links for both Vertex eBooks)
Tags: animation, art, Art By Papercut, cg, Concept Art, concept design, Derek Burris, eBook, Emil Mujanovic, free, games, lighting, modeling, Quixel, rendering, Ryan Hawkins, texturing, tips, Training, tutorial, Ubisoft, UDK, Vertex, Vertex 2, videogames, World Machine, ZBrush