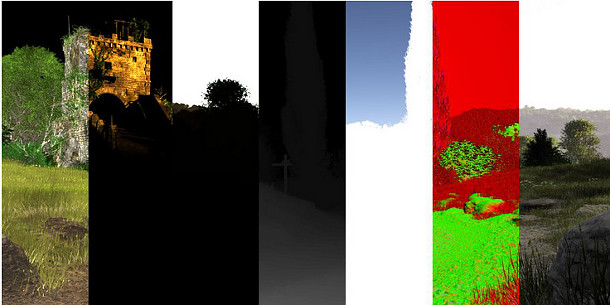 Some of the new render elements available in Terragen 3 Professional. The release adds features tailored towards visual effects work, including improved GI and a new Linux render node.
Originally posted on 16 June. Scroll down for updates.
Planetside Software has announced shipped Terragen 3 Professional, a significant update to the landscape-generation tool, "developed with direct feedback from VFX vendors using Terragen in major film and TV projects".
New features include:
Comprehensive layer and render element output
Enhanced 3D preview
New ultra-fast, high-detail Global Illumination mode
Significantly improved population control including per-instance editing and color variation
Support for FBX and other industry-standard data interchange formats
Significant performance enhancements for localized cloud rendering
Object mesh deformation
Content library for organizing and quickly accessing scene files, objects, and textures
Enhanced DEM format and georeferencing support
New spherical camera
Depth of Field blur
Significantly for visual effects work, Linux render nodes are now available with Terragen 3 Professional, making it possible for larger facilities to integrate Terragen with existing Linux-based renderfarms.

A sample Terragen 3 animation, created by Hannes Janetzko.
Updated 16 July: Planetside has now confirmed the pricing for Terragen 3. The full edition, now officially named Terragen 3 Professional, still costs $549, or $699 with the Animation module.
However, there is also now a $199 Creative edition in which still renders are limited to 5,000 x 5,000 pixels. $349 gets you the Animation module as well, with animated output limited to 1080p.
There is also a free edition, limited to 1,280 x 900 resolution. There are a few other differences between the versions: you can find a comparison table on the Planetside website.

Terragen 3's instance-editing functionality in action. The software is now officially shipping.
Updated 16 August: Terragen 3 is now officially shipping. You can see a full feature list here
The details haven't changed much since pre-release days, so we won't post the full announcement here, but the list of features now includes "new shaders and node features, including Vortex Shader, and Voronoi and 4D noise".
Buyers also get €100 (around $130) in free render credits at the Ranch Computing online render farm. To claim them, you will need to sign up for an account, then email Ranch your Terragen 3 order number.
Visit the Planetside Software website
Tags: generation, generator, GI, global illumination, landscape, Linux, new features, Planetside Software, price, release date, render elements, shipping date, Terragen, Terragen 3, Terragen 3 Professional, terrain