Thursday, July 4th, 2013

Posted by Jim Thacker
Foundry to develop Sony Pictures Imageworks' Flix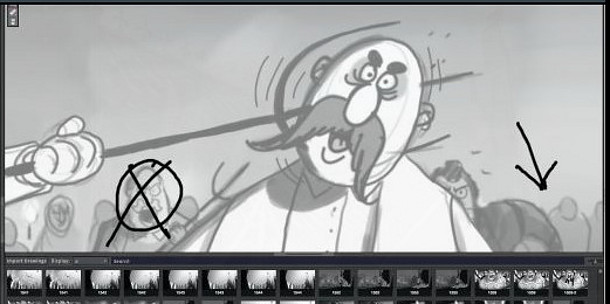 The Foundry has extended its development partnership with Sony Pictures Imageworks, adding Flix, the studio's in-house "collaborative storyboarding tool", to its product line-up.
More than a tool for managing 2D content
There's very little information on The Foundry's site, but it's clear that Flix is more than just a storyboarding app.
Instead, the official announcement notes that Flix is an web-based tool suite designed to enable "directors, editors, cinematographers, storyboard and previs artists to work together in one easy-to-access place".
The demo images show the system managing both conventional 2D boards and 3D scenes, while fxguide, who saw a preview of the system, describes it as "a cross between a productivity tool, previs, layout and workflow".
According to the fxguide story, the system is capable of tracking shots as they evolve from 2D boards, to reels, to 3D previz, to finished shots.
From Flix, users can launch the appropriate application in which to edit content, depending on whether a shot is still at the storyboard stage, in layout, or a final animation: for example, Photoshop, Maya or Nuke.
Any changes made in the other tools are saved to the sytem, and the edit updated automatically.
Automated review and production-tracking tools
There is also a screen-sharing facility for online review sessions – crucially, one that automatically saves both the annotations and a complete history of any revisions made.
The system also generates QuickTimes to send to anyone not on Flix, using the latest versions of each shot.
Clearly, Flix's toolset sounds well suited to feature animation, but with the increasing pressure to unify previz and post-production assets, we can imagine that many VFX studios will be interested as well.
As fxguide notes: "Some of the key aspects are so useful, it is hard to believe [no one did this] years ago."
No release or pricing details yet
At this stage, there's no indication when, or whether, Flix will become an off-the-shelf product.
Studios can register their interest via The Foundry's online contact form, but since that's just to "enquire about adoption", not to join a beta program, we imagine this is very much the early stages of commercial development.
Read the official announcement about Flix on The Foundry's website