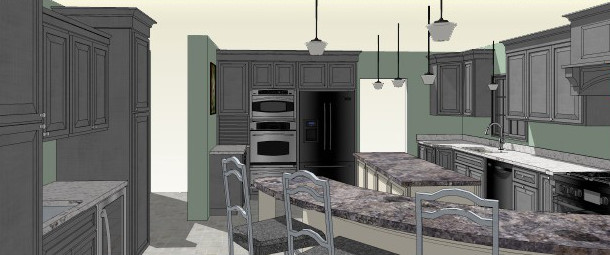 Trimble has released SketchUp 2013, its first major update to the architectural sketching and modelling software since it acquired the product line from Google last year.
Actually, we say 'major', but aside from the switch to Autodesk-style version numbering – under the old system, this release would be SketchUp 9 – there doesn't seem to be that much new.
New library of pattern fills, new Extension Warehouse, not much else
The biggest single addition is probably the new library of pattern fills, although speed boosts in screen redraw, vector rendering and video output, and increased maximum zoom in LayOut will all be welcome.
There is also a new online Extension Warehouse, making it easier to manage add-ons.
Besides that, it's all fairly small stuff. Second and third in the list of new features are the ability to create curved arrows on diagrams quicker, and being able to include dashes when listing dimensions.
The changes mainly seem focused towards generating diagrams, too, not geometry or renders – which may or may not be a welcome development, depending on what you use SketchUp for.
A new name for the free version
SketchUp 2013 is available now for Windows XP SP3 and above and Mac OS X 10.6 and above.
The non-commercial free edition has now been rebranded SketchUp Make and is described as being for "hobbyists, kids and backyard spaceship builders".
Pricing for the Pro edition is up to $590 (£384), including a year's maintenance and support – which doesn't seem to be optional, at least in the online store – with discounts available for volume purchases.
Read a list of new features in SketchUp 2013
Download SketchUp 2013
(Includes full version of SketchUp Make or eight-hour demo of SketchUp Pro)
Tags: architectural, Extensions Warehouse, Google, LayOut, modeling, new features, pattern fill, sketching, SketchUp, SketchUp 2013, SketchUp 9, Trimble