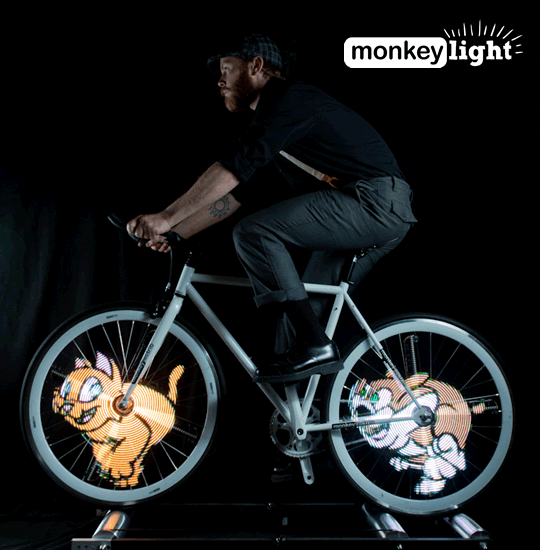 Bay Area technology firm MonkeyLectric has unveiled the Monkey Light Pro: the world's first mobile, outdoor, 100% green screening system for still images and animations.
(Okay, it uses LED lights to display images on your bike wheels as you ride, but it's still pretty cool.)
How it works
The system uses Bluetooth to download animations from your smartphone, in formats including MPEG, MOV and AVI, then plays them out via an array of 256 LEDs strapped to the spokes of a bike.
The units are waterproof, work at -10°C, and run for 3-8 hours before the battery needs recharging.
Images are displayed in 12-bit colour, though with only 1,000 frames in on-board memory, you're limited to short clips – and you will need to be capable of riding at 10-40 mph to display a steady image.
Back the Monkey Light Pro on Kickstarter
Whether you need a Monkey Light Pro probably depends on whether your first reaction was, "Cool!" – or like one forum post we saw, "That'll make hipsters even more unbearable."
If you're in the first camp, the company is currently running a Kickstarter campaign that lets you pre-order for $695: $200 less than the final standard price.
If you haven't got that kind of change knocking around, MonkeyLectric currently produces two smaller units for $50 and $75 – though you'll be limited to simple graphics and music-visualiser-type effects.
Read more about the Monkey Light Pro on the MonkeyLectric website
Back the Monkey Light Pro on Kickstarter
Tags: animation, AVI, bike, hipster, LED, Monkey Light, Monkey Light Pro, MonkeyLectric, MOV, MPEG, present, screen, spokes, toy, wheel