Wednesday, April 17th, 2013

Posted by Jim Thacker
Gnomon announces The Art of God of War: Ascension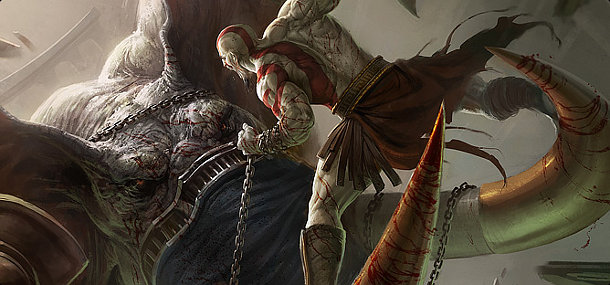 Hollywood's Gnomon Gallery has announced its latest show will feature concept art, character models and environment models from Sony Computer Entertainment's God of War: Ascension, and include a special panel discussion with artists from SCE's Santa Monica Studio.
An insight into SCE's working methods
According to the press release: "The Gnomon Gallery has displayed many impressive drawings, props, and sculptures from blockbuster movies and games, [including] The Avengers, Pacific Rim, Avatar, Hellboy II, Looper, Star Trek, Halo, Transformers: War for Cybertron, and Hawken.
"The next show in the lineup is sure to please the many game fans that have been following the critically acclaimed – and best-selling – game franchise, God of War.
"Sony's Santa Monica Studio is known for bringing to life one of video games' most iconic anti-heroes, Kratos, the God of War. Through the creation of four unique games, Santa Monica Studio has carved out a place in Greek mythology for another legend in the pantheon of gods.
"With the recent release of the prequel, God of War: Ascension, Santa Monica Studio has once again displayed their penchant for creating outstanding visuals, brilliant gameplay and cutting-edge technology. The studio will be showcasing its painstaking process of game development from beginning to end, revealing how their craftsmen create such a compelling world."
Meet the artists
The Art of God of War: Ascension opens to the public this Saturday, 20 April. There will also be a special Q&A discussion panel with key artists from SCE Santa Monica Studio on Saturday from 6-9pm.
Panel speakers:
Luke Berliner – Environment Concept Artist
Jung Park – Lead Environment Concept Artist
Eric Ryan – Character Concept Artist
Izzy Medrano – Lead Character Concept Artist
Cliff Childs – Environment Concept Artist
The exhibition itself will be open from 7-11pm on Saturday, then revert to normal Gnomon Gallery opening hours of 10am to 9pm Monday to Friday. The show runs through June.
Visit the Gnomon Gallery online
(Includes directions to the gallery)
Full disclosure: CG Channel is owned by the Gnomon School of Visual Effects.