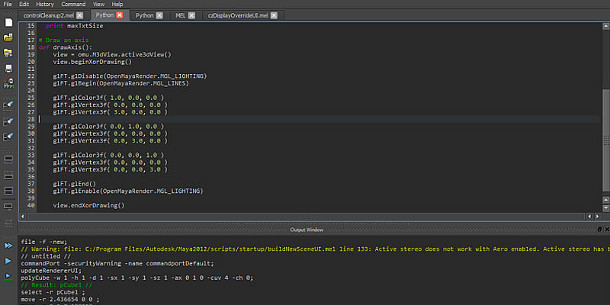 It may not be ideal screenshot fodder, but TDs should find it useful: Charcoal Editor for Maya in action.
Chris Zurbrigg has released Charcoal Editor, a Maya plugin "designed to replace the aging script editor".
The release follows that of Zurbrigg's Blue Pencil, which adds 2D drawing tools into Maya's 3D viewport, and which we reported on when it was released earlier this year.
The only script editor you'll ever need?
Zurbrigg claims that Charcoal Editor, which is integrated natively into Maya, removes the need for "a complex external editor setup", offering "many advanced features found in leading IDEs".
A complete feature list can be found on Zurbrigg's website, along with all the documentation for the plugin.
Charcoal Editor is available now for Maya 2011 SP1 and above on Windows and Linux, and Maya 2012 and above on OS X. It is currently available at 'introductory pricing' of CAD $39 (around $39 USD).
Read more about Charcoal Editor on Chris Zurbrigg's website (Includes download link for demo)
Tags: add-on, Charcoal Editor, Chris Zurbrigg, coding, developer, IDE, Maya, plugin, programming, script editor, TD