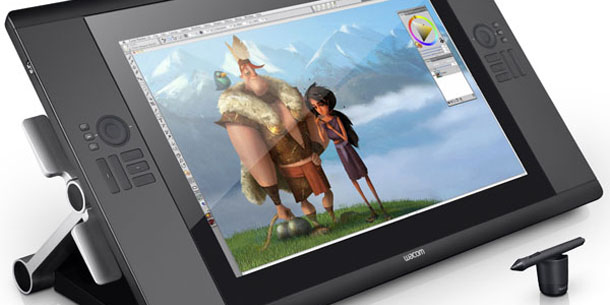 The deluxe Cintiq 24HD touch: Wacom's new $3,699 top-of-the-range pen display.
Wacom has unveiled two new deluxe models in its Cintiq range of pen displays – but neither the Cintiq 22HD or the Cintiq 24HD touch will come cheap.
We reviewed the Cintiq 24HD back in March, and liked it a lot. Its new sister model, the 24HD touch adds gestural controls – but also adds $1,100 to the price.
In his review of Wacom's new Intuos5 tablets, which also feature gesture support, our own Fernando Caire liked the new touch-screen features, but felt that on their own, they didn't justify an upgrade.
Gesture support isn't the only thing you get in the 24HD touch: the screen displays 1.07 billion colours, as opposed to the 24HD's 16.7 million, and 97% of Adobe's colour gamut.
But even so, paying $3,699 for a pen display – even one as desirable as this – will be a big ask for many artists.

Engadget goes hands on with Wacom's upcoming Cintiq 22HD pen tablet.
The other new addition to the Cintiq line-up won't put as big a dent in your bank balance. Not quite, at least. The 22HD forms a direct replacement for the old 21UX, and preserves its $1,999 price tag.
New features include an improved LED-backlit panel with improved brightness and contrast, but unlike the 24HD, you only get native 1,920 x 1,080 resolution, not 1,920 x 1,200.
Also unlike the 24HD, the 22HD keeps the old stand, which has the advantages of being lighter and allowing the screen to be rotated; although we did like the ease of use of the new version.
The 22HD is expected to ship in late July, with the 24HD touch following the month after. You can see more details of both on the Wacom website.
See a comparison table of Cintiq models
Visit the Cintiq section of the Wacom site
Tags: Cintiq 22HD, Cintiq 24HD touch, graphics tablet, pen display, pen tablet, touch screen, Wacom