Friday, February 3rd, 2012

Posted by Jim Thacker
Q&A: Jon Noorlander, Senior Artist, Prime Focus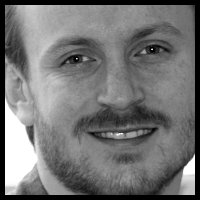 Jon Noorlander studied computer graphics at Luleå University of Technology in Skellefteå in his native Sweden, working for local game developer Coldwood Interactive during his summer vacation. Moving to the UK to work at Darkside Animation in 2005, he subsequently became Head of 3D at boutique motion graphics studio ManvsMachine, and is now Senior Maya Artist at multinational VFX house Prime Focus.
Jon has worked on a wide range of award-winning short-form projects, including a BIMA Award-winning spot for the Land Rover LRX and a series of idents for US cable channel Syfy that won Gold and Silver at the PromaxBDA Design North America Awards in 2010. We talked to Jon about his career in commercials, and the art of creating winning idents.
CG Channel: How large is the job market in Sweden? Is that what prompted you to move to the UK?
Jon Noorlander: Over the last couple of years, a few new companies have popped up, mainly in Stockholm and Gothenburg, and they are always on the hunt for good talent. So as long as you have a good reel, you should be fine. But obviously, the smaller the city, the fewer the opportunities.
I wanted to move to London because the quality of work is great in the UK. During my last term at university I took a week off, flew to London and handed out my showreel. The next day I got a call from Darkside and they offered me a job. So I was lucky enough to be asked to move over directly after I graduated.
CGC: Since you've been in the UK, you've worked on a number of award-winning idents. How does the timescale and budget for an ident differ from an ad?
JN: Budgets for ads are higher, and usually include a lot more people. On idents, I get involved in most parts of the process, from brainstorming with the creative directors to even comping them. The typical turnaround for a set of idents is a couple of weeks. You start with brainstorming and animatics, then when you have locked down an idea and style, you spend a week or two actually creating them.
CGC: So you must get more direct creative input than you would with an ad?
JN: Definitely. Ads are a lot more controlled by the client or agency since they are looking to sell a product, whereas I as a designer naturally want to make a good-looking piece. There is always compromise.
Of course, I always try my hardest to sell my idea to the director. Over the years I found the best way for me to get all my thoughts across is to produce a few tests early on in the project. It's easier to get everyone on board if I can show them something instead of just telling them what I think. People respond to visuals more then text.
CGC: You've said that the Syfy idents were your favourite project to work on. Tell us more about them.
JN: In total, we worked on around 10 Syfy idents at ManvsMachine. We did them in a few batches, so the first set was done at the same time as we did the rebranding [in 2009]. Then a year later, they asked for another set. And just recently, I helped out on the Syfy Kids ident.
Each ident would take approximately one to two weeks, including changes. We pretty much got an open brief: the only thing we had to do was to finish on the logo. With most of them, I and the creative directors at ManvsMachine came up with a few ideas and then I started to play around in Maya. That's a very creative way to work, and something that rarely happens with ads.
Some of the others I just supervised, and Syfy Kids was a bit different, since ManvsMachine had done all the design work, so I just had to do the character animation and edit. Syfy was very happy with the result, and the whole rebranding of the channel was a big success.
CGC: On top of that character work and editing, some of the idents include a fair bit of technical animation. How much of a generalist do you need to be, compared to movie VFX?
JN: It's hard to survive in short-form work if you aren't a generalist. Usually the budget won't cover more then a couple of people, so it leaves you to do most of the work. I don't call myself a TD, but I do sort out a lot of technical issues and I really enjoy that. Every project comes with new problems needing to be solved before your design will work technically.
CGC: How important is it to stay abreast of current trends in design?
JN: It's a huge advantage to be on top of all the current trends within the design world, and it's a passion of mine anyway. I follow a few design blogs and websites, and you can get a lot of inspiration from other fields. The 3D community can become quite techie really fast.
CGC: Movies and games have longer crunch periods, but you have more of them. Which is more stressful?
JN: I think short-form work is more stressful. Usually I have more then one project going at the same time, so I rarely get any downtime in between. But the fast pace keeps me going, and if there is ever a moment between jobs, I spend the time testing new techniques. I've stored quite a few tests to use in future projects.
CGC: What qualities are most important in a successful short-form VFX artist?
JN: The most important thing is to have an eye for design, as clients make quick judgements.
Also, natural timing. If things aren't moving right, the result will always look very odd. And finally, be a little bit geeky. You need to enjoy the technical side to be able to create the things you want to create.
CGC: For movie reels, the standard advice is never to include any lower-quality work. Can you relax that quality threshold a bit for a generalist reel, in order to show a breadth of skills?
JN: Even if you are applying for a generalist position, I wouldn't include weaker pieces. Make the beginning of your reel really strong! We usually make our decisions from the first couple of shots.
And don't make the reel too long. If you're very picky about what makes the cut, it will make the studio more curious about you, which will then hopefully lead to them calling you back.