The idea of holing up in a cabin in the woods to create your masterwork is central to many artist creation myths. Justin Vernon did it for Bon Iver's first album. Jack Kerouac based part of The Dharma Bums on his experiences living in a fire lookout on Desolation Peak.
Now self-taught Chilean animator Tomas Vergara has done the same thing, quitting his day job in advertising to live on tea, oatmeal and soya in a cabin near Pucón and work on his debut short, The Chase.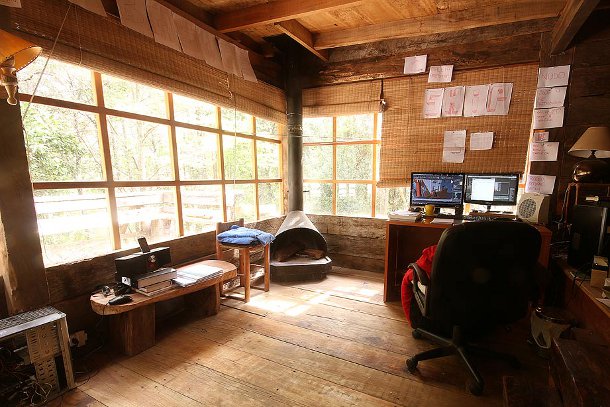 Tomas Vergara's production office for The Chase: a cabin in the woods near Pucón, Chile.
"Ever since I was a kid, I always wanted to make a film," says Vergara. "But when I started to work and make money and stuff, all that kid desire began to fade away. The pay was good, but we were making things that sucked, and it wasn't going to get better any time soon."
"That's when it hit me. I realized I didn't care about making a living. So I saved some money, made a plan and went to make The Chase."
Ugly beautiful
The tale of a contract hit gone wrong, The Chase features some snappy direction, beautiful environment lighting, and one of the most memorably wonky bad guys from the world of indie shorts.
The film, which clocks in at just under 15 minutes, was created on a budget of just $700. Most of the work was done on a single Phenom II X6 six-core workstation, although Vergara subsequently bought a second machine when rendering began to bottleneck.
Vergara worked in Maya and After Effects, teaching himself rigging and character animation during the process.
"At one point, I only slept five hours a day for three weeks straight," he says. "My break was to have lunch, which I gave exactly seven minutes. One day, I forgot to sleep and eat for about 30 hours. I almost passed out, and then got scared. If something happened to me, nobody would be there to know. Eventually I realized all that was counter-productive."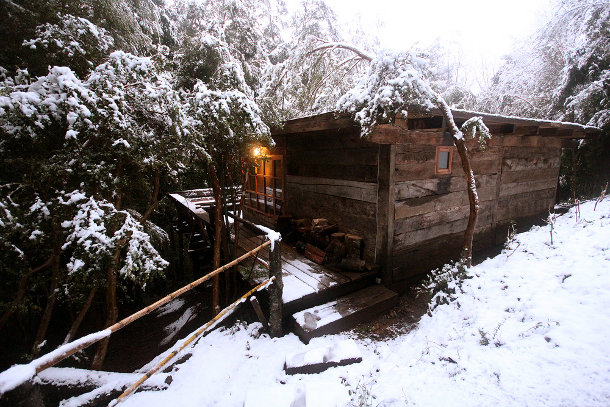 Production on The Chase hits an unexpected snag. "The heating in the cabin sucked," says Vergara. "I worked in my sleeping bag all winter."
Back on a more reasonable routine, Vergara eventually completed the movie's 269 shots in eight months, two months over his original target, having gone through 15 power cuts and over 40 Blue Screens of Death.
During his time in the cabin, Vergara – a self-confessed non-reader – ended up reading 14 books, learning to juggle with clubs, and shedding 60 pounds in weight. He also wrote 38 new stories to produce in the future.
So will Vergara produce his next animated short under quite such extreme conditions? Well, maybe not.
"In fact I was scared as hell," he says. "There were way too many things I didn't know how to do, but I went for it anyway. The fact of being afraid of all that was the whole reason to make the movie, I guess. Its a cliché, I know, but I can't think of a different reason."
Tags: animation, cabin, Chile, short, The Chase, Tomas Vergara