MakerBot Industries CEO Bre Pettis demonstrates the company's new Replicator 3D printer.
You wait years for an affordable 3D printer, then two come along at once.
Both 3D printing pioneer 3D Systems and newer rival MakerBot Industries launched new sub-$2,000 printers at this week's Consumer Electronics Show.
MakerBot's new Replicator is a bigger brother to its existing $1,099 Thing-O-Matic, retailing at $1,749 for the standard model, and $1,999 for the two-colour 'Dualstrusion' edition.
The look of the printers matches MakerBot's freewheeling approach to product naming, both resembling something a hipster scientist might have assembled out of basement trash.
Users can share designs for free on the company's Thingiverse community site.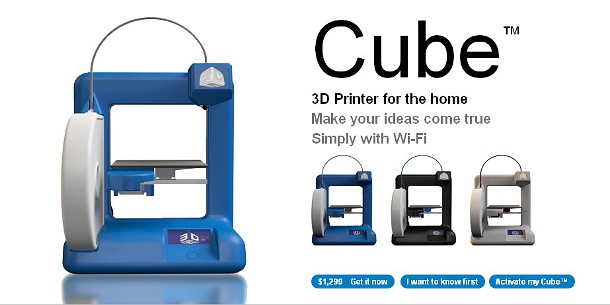 In contrast, 3D Systems' more straight-laced Cube is its first foray into this end of the market, having only released its first sub-$10,000 printer in 2009. It has the price right now, though: the Cube sells for just $1,299.
The company has also launched Cubify, an online community through which people can buy and sell 3D prints.
The BBC has a good interview with the two companies' CEOs, which captures the difference in cultures – anti-consumerist and slightly ramshackle on the part of Makerbot, efficient and corporate for 3D Systems.
Read more about the Replicator on the Makerbot Industries website
Read more about 3D Systems' Cube on Cubify
Tags: 3D printer, 3D Systems, affordable, CES, cheap, Cube, MakerBot Industries, Replicator