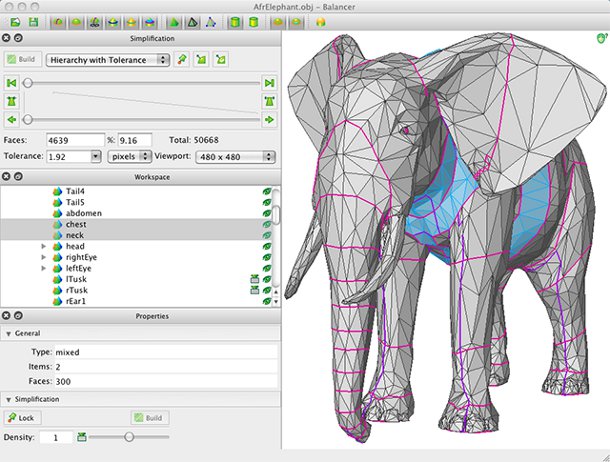 A model reduced from over 50,000 faces to 4,639 in Balancer 2.0, preserving the silhouette to within two pixels of the original when viewed in a 480×480 viewport. Image originally posted on CGTalk.
Atangeo has released an update to its Balancer polygon-decimation software, adding an interesting new way to control the way in which the application reduces the poly count of a model.
Balancer 2.0 enables users to specify their viewport resolution and an error tolerance in pixels, and the software automatically generates a simplified model whose silhouette does not deviate from the original by more than the error tolerance value, no matter which direction it is viewed in.
All in all, a neat way to deal with high-resolution sculpts if you don't have access to the built-in decimation features in software like ZBRush.
Version 2.0 also incorporates a number of minor features and bugfixes added in the free 1.5.1 update.
Balancer 2.0 is available for Windows and Mac OS X, price $52. Upgrades cost $26. A free Lite edition, limited to meshes of up to 15,000 triangles, is also available.
Read a full list of new features in Balancer 2.0
Visit the Balancer product page
Download Balancer Lite or the demo version of Balancer 2.0
Tags: Atangeo, Balancer 2.0, decimation, model, polygon reduction