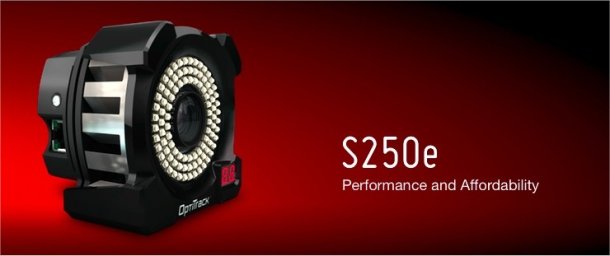 NaturalPoint has released the world's first sub-$2,000 Ethernet motion-capture camera. The OptiTrack S250e comes in, in fact, at $1,899.
Not quite on a par with yesterday's story about how a hacked Kinect can be used as a no-cost capture device, but still pretty cheap for a professional solution, nonetheless. Full details below.
PRESS RELEASE (Excerpts)
Today marks the immediate availability of OptiTrack™'s high-performance motion capture camera, the S250e. Providing exceptional speed and precision in a highly compact form factor, the S250e is the first full-featured Ethernet motion capture camera in the world for under $2,000 USD.
"OptiTrack has always offered the most affordable motion capture technology on the market," said Jim Richardson, NaturalPoint® co-founder and lead engineer for the OptiTrack motion capture line. "With the release of the S250e, we are reshaping the CG production landscape, coupling that aggressive pricing strategy with a continued investment in core optics and image processing technology. The result is a motion capture camera that offers unprecedented performance for its price point."
The S250e boasts 250 FPS capture, SVGA resolution, expansive field of view, on-board image processing, software-controlled IR filter switching, and some of the most advanced M12 lenses in the world – all housed in a compact aluminum and soft-touch polycarbonate case.
First demonstrated at SIGGRAPH 2010, the S250e is designed to serve the film, broadcast, game cinematics, sports training, military and defense, biomechanics, and university research industries.
Visit the OptiTrack product website
Tags: camera, motion capture, OptiTrack, S250e