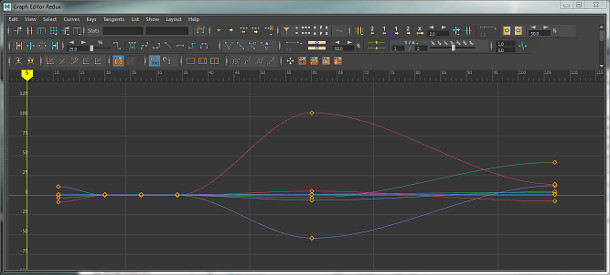 Double Negative character pipeline TD Ron Bublitz has released Graph Editor Redux 3.0, a tenth anniversary update to his popular free extension to Maya's graph editor.
Makes working in Maya's graph editor more customisable and more intuitive
Described by Bublitz as "essentially a redesign" of the curve editor, Graph Editor Redux both makes Maya's interface more customisable and adds a range of new tools to make it more intuitive to work with.
These include a number of ways of making quick global adjustments to an animation, including options for exaggerating or flattening curves; time-shifting keyframes; and moving, scaling or lattice deforming keys.
Other tools automatically tighten tangents, remove redundant keys, or add noise to the animation curves.
Graph Editor Redux also comes with its own readymade variant layouts for the Graph Editor tool icons, and makes it possible to create your own custom icon designs and colour themes.
New in version 3.0: support for Maya 2018, companion exposure sheet tool DPT reinstated
To that, Graph Editor Redux 3.0 adds the option to insert inbetween keyframes from the right-click menu; and colour codes icons into groups to make it easier to pick out their function at a glance.
Version 3.0 also adds support for Maya 2018 and updates the icon designs to match Maya's current set.
The update also restores companion tool Digital Pose Test (DPT): a digital implementation of a traditional exposure sheet, intended to help when blocking animations.
DPT was included with previous releases, but had to be dropped from the Maya 2017 version, since Autodesk temporarily removed a Qt library that it relied on.
Availability and system requirements
Graph Editor Redux 3.0 is available free for Maya 2012 and above. It uses an MIT licence.
Download Graph Editor Redux 3.0 for free from Highend3d.com
Tags: add-on, animation, curve editor, Digital Pose Test, download, DPT, exposure sheet, free, graph editor, Graph Editor Redux, Graph Editor Redux 3.0, Maya, new features, plugin, Ron Bublitz, script, x-sheet