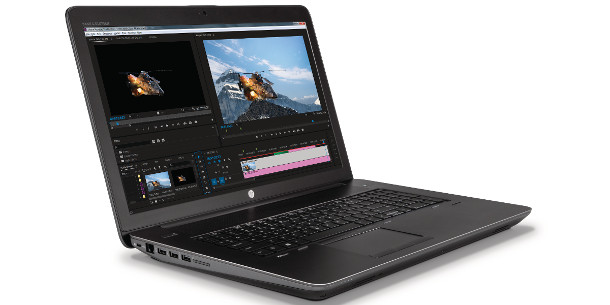 HP has released its ZBook G4 family of mobile graphics workstations, including new versions of the ZBook Studio, ZBook 15 and ZBook 17 – the latter described as HP's first laptop ready for VR content creation.
The firm has also announced the ZBook 14u, a new 14-inch Ultrabook, joining the existing ZBook 15u.
The ZBook 17 G4: HP's first 'VR-ready' mobile workstation
HP describes the ZBook 17 G4 as its first VR-ready portable, designed to address the way that "VR [is taking] off … especially in product design", and offering "desktop-like performance".
In terms of specs, it's an iterative improvement on the previous-gen model, replacing the ZBook 17 G3's sixth-gen Intel CPUs – there's a choice of quad-core Core i5s, Core i7s or Xeons – with seventh-gen models.
Discrete graphics options now include Nvidia's Pascal series of Quadro mobile GPUs, replacing the previous Maxwell series, or AMD's Radeon Pro WX 4170, replacing the older FirePro W6150M.
Available graphics RAM goes up accordingly – in the case of the top-of-the-range Quadro P5000, to 16GB.
Connectivity options remain largely unchanged – USB 3.0, USB-C/Thunderbolt 3, HDMI 2.0 – and there is still a choice of UHD (3,840 X 2,160px) DreamColor or FHD (1,920 x 1,080px) touchscreen displays.
Maximum system RAM remains at 64GB, although data transfer speed is up: from 2,133MHz to 2,400MHz; and there is still a maximum of 4TB of storage, though you can now have multiple HP Z Turbo Drive G2 SSDs.
The new model also brings in the toolless design of HP's desktop systems, enabling components to be slotted in or out; and faster charging – HP claims it can be charged to 50% capacity in 30 minutes.
The ZBook 15 G4 and Studio G4: incremental updates to the existing models
It's a similar pattern with the ZBook 15 G4 and ZBook Studio G4, which also get seventh-gen Intel CPUs and current Nvidia and AMD GPUs – although here, the top-of-the-range options have 4GB of graphics RAM.
As with the ZBook 17 G4, display and connectivity options are unchanged, as are system RAM and storage, but memory speed is up to 2,400Hz, and the ZBook 15 G4 also now supports multiple Z Turbo Drives.
Both models also get the new high-speed charging system, although not the ZBook 17 G4's toolless design.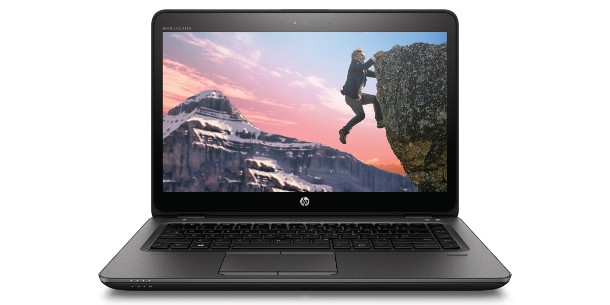 The ZBook 14u: new entry-level 14-inch professional Ultrabook
At the bottom end of the product range, HP has also introduced a new 14-inch Ultrabook, the ZBook 14u, which joins the existing 15-inch ZBook 15u.
At 13.3 x 9.3 x 0.87″ and 3.61lb, it's a bit thinner and considerably lighter than either than the ZBook 17 or 15 – although it's actually thicker than the 0.71-inch ZBook Studio.
Again, you get a choice of seventh-gen Intel CPUs (all dual-core Core i5s and i7s; no Xeons), although the only discrete GPU on offer is AMD's previous-gen 2GB FirePro W4190M.
The model comes with up to 32GB RAM, at the old maximum speed of 2,133MHz; up to 2TB internal storage; and an FHD display – there is also a 1366 x 768px option, but that seems underpowered for pro work.
You get a total of three USB 3.x ports, plus DisplayPort 1.2 and an old-school VGA port in place of HDMI.
All four of the new models also feature HP's SureStart Gen 3 self-healing BIOS system, which detects BIOS attacks in run-time memory and restores the BIOS to a custom state.
Pricing and availability
The ZBook 17 G4, ZBook 15 G4 and ZBook Studio G4 should be shipping by the time you read this. Pricing for the ZBook 17 G4 starts at $1,519, the ZBook 15 G4 starts at $1,419, and the ZBook Studio G4 at $1,399.
The ZBook 14u is expected to ship in June, but pricing has yet to be announced.
Read more about HPs's ZBook family of mobile graphics workstations on its product website
Tags: AMD, connectivity, Core i5, Core i7, CPU, display, GPU, graphics workstation, HP ZBook, laptop, memory speed, mobile workstation, NAB 2017, NVIDIA, Pascal, price, professional, Quadro, Radeon Pro, RAM, release date, resolution, specifications, storage, Ultrabook, VR. virtual reality, Xeon, ZBook 14u, ZBook 15 G4, ZBook 17 G4, ZBook Studio G4