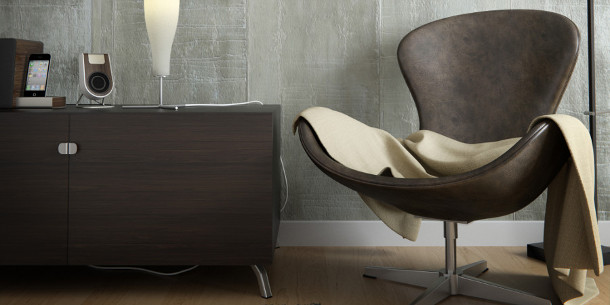 The new 'experimental' YafaRay-E 1.0.0 release fixes longstanding issues with the venerable open-source raytracer, used on this architectural interior by Olivier Boscournu. See the full, uncropped image here.
The YafaRay team has released YafaRay-E 1.0.0: a new 'experimental' version of the open-source raytracer that fixes many of the issues with the previous builds and makes the software compatible with Blender 2.76.
A new lease of life for a pioneering open-source renderer
One of the earliest open-source raytracers – at least in its original form, YafRay – YafaRay was integrated directly into Blender until Blender 2.49, since when API changes have meant it requires an exporter.
Since then, the project has been somewhat overshadowed by Blender's own Cycles engine and, until recently, lacked an active developer.
Now, however, a series of releases posted in the Experimental branch of the code by community member David Bluecame seem to have given the renderer a new lease of life.
YafaRay-E has gone through four beta builds this year, and has now advanced enough to be considered an 'official' release, with a 1.0 version number to match.
So what's new in the 1.0 release?
Perhaps most importantly, Yafaray-E makes the renderer compatible with the current version of Blender: something that hasn't always been the case recently.
It also fixes longstanding bugs and adds new features, including new clay render and texture mapping systems, improved handling of volumetrics and, most recently, proper handling of Blender colour spaces.
You can find more details via the links to the release threads below.
Availability
YafaRay-E 1.0.0 is available for Blender 2.76, running on 32 and 64-bit Windows and Linux.
Read more about YafaRay-E 1.0.0 in the release thread on the YafaRay forum
Read the release threads for the earlier beta builds of YafaRay-E
Download YafaRay-E from GitHub
Tags: Blender, bugfix, clay render, color space, David Bluecame, free, linear workflow, open source, raytracing, renderer, update, volumetrics, YafaRay, YafaRay Experimental, YafaRay-E, YafRay