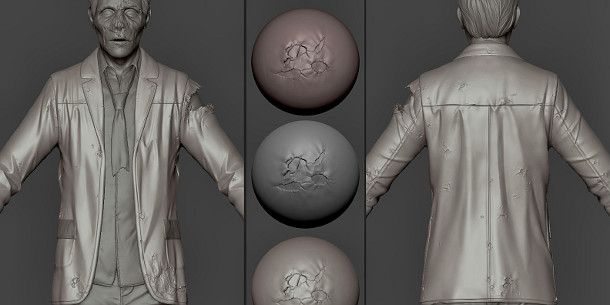 CG Record has posted 11 free custom ZBrush wear brushes created by freelance character artist Kaushik Saha. The brushes are designed to add realistic holes, wrinkles and scuffs when modelling clothing.
Updated 23 January: The CG Record story is a repost – the original thread is here on Polycount.
And that's it. Not rocket science, but useful to have in your toolbox, particularly if you're trying to recreate sturdier fabrics, as with shoes and jackets.
Download Kaushik Saha's ZBrush wear and tear brushes via CG Record
(Download link is near foot of page, beneath the images)
Tags: alpha, brush, CG Record, custom, download, free, hole, Kaushik Saha, modeling, scuff, sculpting, tear, wear, wrinkle, ZBrush