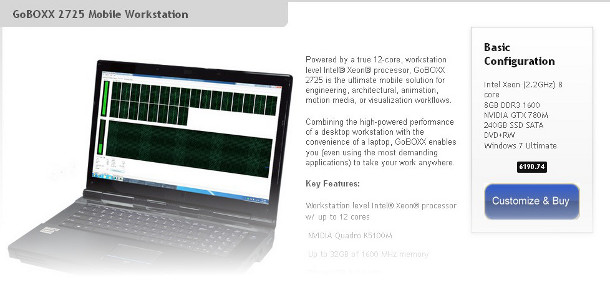 BOXX Technologies has introduced the GoBOXX 2725, a new 12-core mobile workstation aimed at design visualisation, animation, modelling, and motion graphics.
The company claims that, with its Ivy Bridge Intel Xeon E5-2600 v2 processor, the 2725 is "likely more powerful than the desktop workstation you're currently using".
As a point of comparison, Dell's current top-of-the-range Precision M6800 is a quad-core machine, while HP's EliteBook 8770w comes with a dual-core processor as standard.
Powerful, but priced to match
Other, more standard, specs for the GoBOXX 2725 include a choice of Nvidia Quadro K5100M or GeForce GTX 780M mobile graphics cards, up to 32GB of 1,600MHz DDR3 RAM and three 2.5″ SATA hard drives.
The mobile has a 17″ screen, and runs natively at full HD (1,920 x 1,080) resolution.
You will definitely pay for the power, though: the 12-core options (the default configuration is a 'mere' eight cores) start at over $8,000.
Read more about the GoBOXX 2725 on BOXX's website
Tags: 12-core, animation, BOXX, BOXX Technologies, cg, E5-2600 v2, GeForce GTX 780M, GoBOXX, GoBOXX 2725, graphics, Intel, Ivy Bridge, mobile, most powerful, NVIDIA, portable, processor, Quadro K5100M, visualization, workstation, Xeon