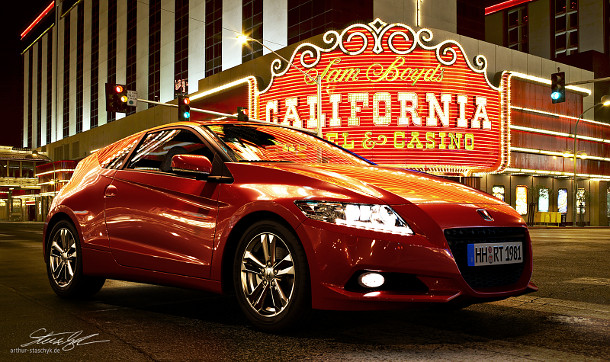 Indigo Renderer 3.6 adds a number of features useful to visualisation professionals to the unbiased renderer, including a new shadow catcher material to help integrate CG objects like this car into photographic backplates.
Glare Technologies has released Indigo Renderer 3.6, the latest update to the unbiased renderer, adding a new shadow catcher mode, support for invisible objects, and better integration with 3ds Max.
Features for visualisation professionals
The 3.6 update adds a number of new features aimed at visualisation professionals.
Alpha export has been improved to "work much better with glass objects", while the new shadow catcher material makes it easier to integrate CG objects with a photographic ground plane.
Objects can also be made invisible to the camera, while still emitting light or casting shadows, making it possible to create invisible light rigs or look through walls without creating implausible lighting effects.
Other new features include new Double-Sided Thin and Coating materials (for leaves, and car paint or varnish, respectively); a spherical camera; and direct integration of Indigo rendering inside 3ds Max.
Pricing and availability
Indigo Renderer 3.6 is available now for Windows, Mac OS X and Linux. The renderer is compatible with 3ds Max, Blender, Cinema 4D, Maya, Revit and SketchUp.
The update is free to registered users of version 3.x. As with previous releases, new licences are currently available at a launch discount rate of €445 (around $600), down from the usual price of €595.
Read a full list of new features in Indigo Renderer 3.6 on Glare Technologies' website
Tags: 3ds max, alpha, car paint, coating, double sided thin, Glare Technologies, grass, Indigo, Indigo Renderer, Indigo Renderer 3.6, integration, new features, photorealistic, physically based, rendering, shadow catcher, spherical camera, unbiased