Wednesday, June 30th, 2021

Article by Paul Hellard
To NFT or not to NFT?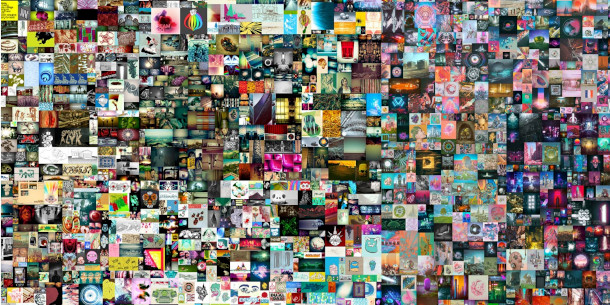 A vital new source of income for digital artists, or an energy-guzzling market bubble? Since they first hit the news headlines earlier this year, Non-Fungible Tokens have been dividing opinion within the CG community. Paul Hellard talked to artists and financial experts to assess their pros and cons.

Non-Fungible Tokens exploded into the public consciousness earlier this year when Beeple's 'Everydays: the First 5,000 Days' became the third-most expensive work from a living artist sold at auction.
Sold by Christie's for $69.3 million, the piece was a compilation of the images that the digital artist and designer, real name Mike Winkelmann, has been posting daily on his website for over 10 years.
The news – plus that of a number of previous major sales of digital art via NFTs – prompted many other artists to wonder if this was a source of income they too should be investigating.
But even as Beeple was hitting the headlines, the backlash within the 3D community was beginning.
Three days before the record-breaking sale, online portfolio site ArtStation announced that it had put on hold plans to offer NFTs for work from leading digital artists in response to user feedback on social media.
So should you be selling your artwork via NFTs? What are the pros and cons of doing so? What even is a NFT, anyway? To find out, Paul Hellard talked to leading artists who have sold their work in this way, those who have their doubts, and experts on the art market and the blockchain technology underlying NFTs.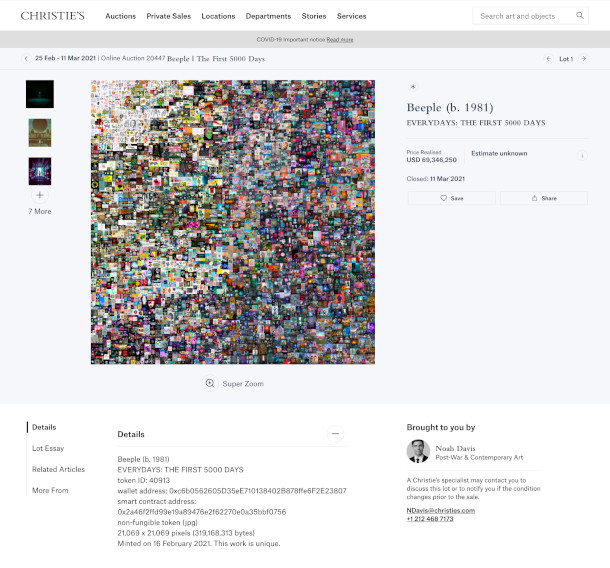 Christie's online listing for its record-breaking Beeple NFT.
What are NFTs?
Cryptographic signatures that connect artworks – or pretty much any other kind of digital 'work' – to the online wallets and identities of their buyers and creators.
The NFT doesn't store the digital image itself, and the image may remain available online, as Beeple's have.
But in a world in which digital works are copied and redistributed freely online, despite copyright concerns, the possibility of provable ownership is valuable.
In the case of Beeple's Everydays, the buyer – cryptocurrency entrepreneur Vignesh Sundaresan – paid just under $70 million essentially for proof of having bought the work.
More information: read The Verge's beginner's guide to NFTs
Why do digital artists need NFTs?
Because they even the stakes between art painted on graphics tablets and art painted on canvas.
Lex Sokolin, head economist at ConsenSys, a technology company involved very early on in the blockchain space, argues that NFTs simply restore the same economic status to digital art that physical artworks have always enjoyed.
"The internet broke human transactions," he says. "On the internet, you couldn't 'sell a picture,' because it was 'free.' Blockchain is the equivalent of the legal and economic system that creates property rights."
"It's kind of a silly, straightforward thing. It brings back our animal intuition about how to trade and exchange."
How do you create a NFT?
There are several ways to start selling your original artwork online with an NFT.
What follows is the one most commonly described: you open an Ethereum wallet – a digital account – that supports the NFT token standard: ERC-721. You can try MetaMask, MyEtherWallet (MEW) or Coinbase.
You'll need around USD $50 in Ethereum tokens, or 'Ether'. If you are using Coinbase's wallet, you can buy ether from the platform with US dollars, British pounds or Euros. You can also buy them from a cryptocurrency exchange. From there, you can connect your wallet and upload the artwork you want to turn into an NFT to Ethereum NFT marketplaces like Foundation, OpenSea or Rarible.
More information: read Finance Magnates' guide to reating your own NFT
How do you sell a NFT?
After verifying the wallet is yours, putting your artwork up for sale is as easy as selecting the uploaded file on the wallet interface and finding the 'Sell' button.
After that, other people can bid on the work, if you've chosen to sell it by auction, or to buy at a fixed price.
More information: read Coindesk's guide to buying and selling NFTs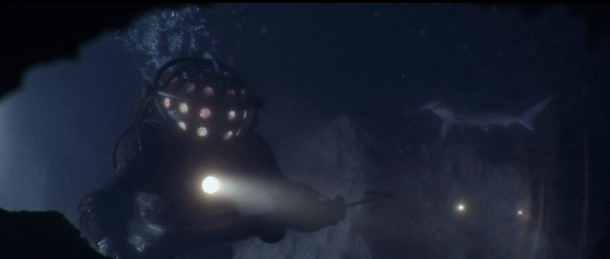 A still from Miguel Ortega and Tran Ma's The Ningyo.
What are the benefits of selling your art via NFTs?
The most obvious benefit for putting your work up for sale via a NFT is that it enables you to make money from personal artwork. VFX artists Miguel Ortega and Tran Ma, creators of cult short film The Ningyo, recently became active in the NFT space, putting a few of Ortega's pieces up for sale.
"It feels good to see that the art we normally upload for nothing more than likes and personal satisfaction can now help pay the rent," he says. "It's really that simple."

And, as Beeple established, art doesn't have to be new in order to sell. NFTs enable artists to make money from images gathering digital dust on their hard drives. Movie poster designer and former Netflix creative director Tomasz Opasinski describes these files as "caterpillars waiting to become butterflies".
Opasinski himself set up accounts on OpenSea and Foundation within a day of hearing about NFTs in order to sell his conceptual poster designs, but quickly expanded into his experimental art and photography.
"We can't all be Beeple, statistically speaking," he says. "[But] we need to have friggin' fun with it! Look at it as some form of liberation and appreciation for digital art!"
Which brings up a second reason for selling your work via NFTs: a sense of affirmation.
343 Industries senior concept designer Ben Mauro told the Art Department podcast that sucessfully selling his work via NFTs has rekindled his creativity.
"It's been kind of unreal how … transformative it has been for us as artists," he said. "I really had no expectations, but it's been fascinating to [find] collectors who like my work."
"Early on, it was just cryptocurrency traders buying art. But now [people] in the community who just love art want to buy everyone else's [work], and it has become this big economy."
The Poor Little Crypto Rich Dog: Framestore senior creature modeller Rishikesh Nandlaskar's fourth NFT.

Framestore artist Rishikesh Nandlaskar describes the experience of having the fourth artwork he minted collected by US soccer star Quincy Amarikwa as "one of the most exciting moments in my life".
"If we keep believing and creating art we like, it will find an admirer and collector in the NFT world," he says.
What are the risks of NFTs?
However, Nandlaskar also identifies one of the risks of selling artwork via NFTs: that it means paying fees up front without any guarantee that you will actually recoup the cost.
"Every artwork [you mint] on blockchain has a big cost attached," he says. "Minting and listing [cost money, and] even the NFT platform where one mints takes 15% from the sale amount."
Well-known character artist Steven Stahlberg, who began selling his own work successfully on Foundation two years ago, advises other artists to be cautious before parting with their cash.
"I already had some cryptocurrency to pay for listing fees, so I didn't have to risk real money," he says. "If you want to invest in anything, you should be careful and only do it if you can afford to lose [everything you have invested]. Treat it like chess, not Russian roulette."
If you do decide to sell, be wary of traditional online hazards like malware and phishing scams.
"The more time I spend fully immersed in the NFT ecosystem, the more I come to realise that it's an entirely different world," says digital artist and self-described NFT evangelist Bruce 'BruceTheGoose' Woodruff, who lost all of his money last year after unknowingly downloading an advanced Trojan virus during a session in the market. "There are a lot of bad actors and opportunists who are only interested in making a quick buck."
And then there is the carbon footprint of NFTs. Like any other computationally intensive operation, making or trading NFTs using Ethereum consumes electricity, although the exact environmental cost is debated.
Beeple told The Verge earlier this year that it costs "about $5,000" to offset the carbon emissions from one of his collections.
While the process may become more environmentally friendly in future – an issue discussed by The Verge – for now, you should be aware of the potential environmental cost of selling your work in this way.
But hasn't the NFT bubble already burst?
Maybe. By April 2021, the average price of an NFT purchase had fallen by 70% from its peak in February.
But that doesn't mean that NFTs have gone for good. Melissa Gilmour, founder of London-based artist agency Lily & Piper, argues that the market will survive because digital art fulfils the same role online that sports cars or designer handbags do for rich collectors in the physical world.
"Digital art works well as a status symbol because the images can be 'seen, displayed, and worn' in the digital space by crypto-rich collectors and reflect who they want to be," she says.
So how much can you realistically earn from NFTs?

Probably not as much as Beeple. 3D generalist Jamie Dunbar, founder of Brisbane's Dragonboots Studios describes his income from NFTs as "not even pocket money", adding that "with time and effort, I could see it becoming another reasonable income stream, but not my main source: maybe a few thousand dollars a year".
Dunbar believes that selling your work successfully via NFTs requires the same kind of qualities as promoting it successfully in online galleries, or social media, or on crowdfunding platforms.
"Ultimately, it's just a new marketplace that will obey the rules of supply and demand, and you still need to have a good product to sell. You still need to advertise to stand out from the crowd. It's unlikely you'll be able to slap something together and become an overnight success, although bless them, plenty of people are."
Where will NFTs go in future?
Opinions vary. Melissa Gilmour of Lily & Piper believes that the technology may enable artists to create new forms of art, or works that span the boundaries between online and physical experiences.
"Creatively, NFTs allow artists to collaborate with almost every process you can imagine, from gaming to decentralized finance. It won't be long before NFTs cross back into the physical realm and connect with exhibitions and the art world through mixed reality and as a new channel to engage with fans. For the art world, ultimately NFTs will be about experience as much as about provenance."
So what's the take-home message from all of this?
Stay true to your art. It is never wise to suddenly do something just to suit the trends. Look at NFTs as an extension of your physical world. And remember: once on the blockchain, forever on the blockchain. If you decide that an old piece isn't a good advert for your current work, you can take it down from your online gallery, but once it has been bought by a collector, you can't remove the record of having sold it.

About the author: Paul Hellard is a freelance journalist who writes about science, technology and digital art. He was editor and features writer at CGSociety.org for almost ten years, and produced Ballistic Media's popular EXPOSÉ and EXOTIQUE digital art books for nearly as long. Visit Paul's website.