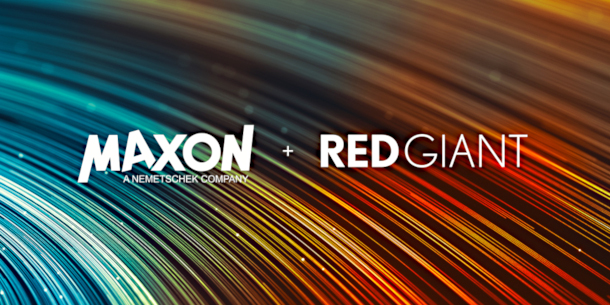 Originally posted on 18 December 2019. Scroll down for news of the final deal.
Maxon and Red Giant are to merge early next year, if the deal is approved by financial regulators.
The two firms have reached a definitive agreement to merge under the media and entertainment division of Maxon's parent company, Nemetschek Group, with the deal expected to close in January 2020.
A deal uniting the developers of key tools for motion graphics and VFX artists
The merger brings together two key players in broadcast and motion graphics: Maxon, with its 3D modelling and animation software Cinema 4D, and Red Giant, with its suites of effects plugins.
Both integrate into After Effects: Cinema 4D Lite is included with the software, and Red Giant's tools, including particle system Trapcode and the Magic Bullet colour correction suite, are available as plugins.
Strengthening existing ties
Unlike Maxon's buyout of Redshift Rendering Technologies earlier this year, this seems to be more a meeting of financial equals: the deal is described as a merger rather than an acquisition.
The firms have issued a joint press release, and posted the same statement on their respective blogs.
They describe the merger as an "exceptional fit of people, culture and technology" and the two companies as sharing "similar philosophies about work, life and community".
"We hang out together at trade shows, support each other in our work, use each other's software, and we've even collaborated on a short film together."
Few practical details yet
Neither the blog post nor the press release has any information on the financial terms of the deal, whether any redundancies are expected, or what changes, if any, users can expect to see to their products.
According to the firms' blog post, more details will follow, presumably once the deal officially closes.
"We know that you probably have a ton of questions about what this all means, and we're excited to be able to share more information about it in the new year."

Updated 19 February 2020: The merger has now been officially completed.
Maxon CEO David McGavran becomes CEO of the merged companies, while Red Giant CEO Chad Bechert becomes chief strategy officer and CCO Stu Maschwitz becomes chief creative officer.
You can see the new executive team here.

Read Maxon and Red Giant's shared press release announcing the deal
Read the firms' shared blog post about the merger
(The same text appears on Maxon's blog)
Tags: After Effects, broadcast effects, Chad Bechert, Cinema 4D, Cinema 4D Lite, David McGavran, deal, FAQs, Magic Bullet, Maxon, merger, motion graphics, Nemetschek Group, Red Giant, Stu Maschwitz, Trapcode, Universe, vfx