Tuesday, November 14th, 2017

Posted by Jim Thacker
Liquid Dream Solutions ships ButterflyNetRender 7.0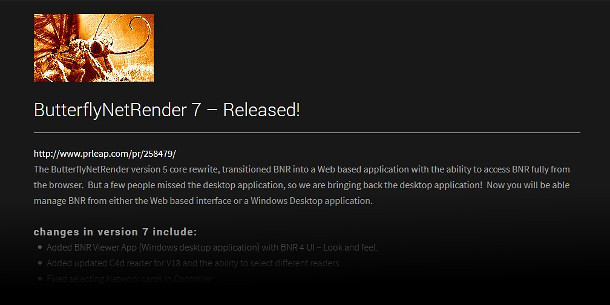 Liquid Dream Solutions has released ButterflyNetRender 7.0, the latest update to its renderfarm manager, restoring the old Windows desktop app alongside the newer browser-based controller.
The software, which is compatible with many common 3D applications, has been used by a range of studios and training institutions including Fox Televion Stations, DAVE School and NASA.
View render jobs from a desktop application as well as the web-based interface
The main new feature in ButterflyNetRender 7.0 is really the restoration of an old one: the desktop application, removed in version 5 in favour of a browser-based interface.
The new BNR Viewer app, which is now available in parallel to the web interface, preserves the UI from ButterflyNetRender 4, so it really is very much aimed at people who miss the original.
Other than that, the changes seem to be largely bugfixes and performance improvements. You can find a full list via the link at the foot of the story.
Pricing and availability
ButterflyNetRender 7.0 is available now. The BNR Viewer app is Windows-only, running on Windows 7+ and Windows Server 2008+; the Client app, installed on render slave nodes, also runs on Linux and Mac OS X.
The software is capable of controlling renders in a range of DCC applications, including 3ds Max, Cinema 4D, LightWave, Maya and Modo.
The product website no longer seems to include a full list, but Liquid Dream Solutions tells us that version 7.0 is compatible with "all the same 3D applications" as before, listed in our story on ButterflyNetRender 6.0.
A Professional licence, which supports up to 16 render nodes, costs $449; an Professional Studio licence, which supports an unlimited number of render nodes, costs $1,400.
Read a full list of new features in ButterflyNetRender 7.0 on Liquid Dream Solutions' blog