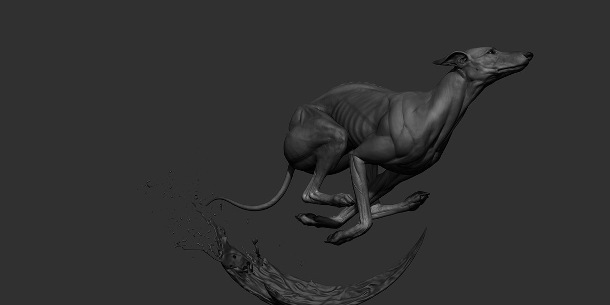 Gnomon is holding a free four-hour series of masterclasses in animal anatomy and creature design at its Hollywood campus this Saturday, 5 November, including a live ZBrush sculpting workshop.
Anatomy Lab: The Art of Creature Design provides a unique chance to learn practical anatomy skills not only from leading concept designers and VFX artists, but from conservationists and museum taxonomists.
An expert guide to animal anatomy and creature design
The afternoon kicks off with a session on live animal sketching, hosted by Gnomon instructor Andrea Adams and Mollie Hogan, executive director of California wildlife charity Nature of Wildworks.
It will be followed by a session on the art and science of taxidermy presented by Tim Bovard, taxidermist at the Los Angeles Natural History Museum, and Allis Markham, founder of Prey.
After an interval, the focus shifts to entertainment design, with a live workshop on sculpting an ibex in ZBrush from Krystal Sae Eua, modelling and texturing lead at The Mill.
The afternoon closes with a session on the art of creature design, presented by leading movie concept artist Jerad Marantz, whose credits include Batman v Superman, Guardians of the Galaxy and Doctor Strange.
Free to attend or watch online
Anatomy Lab: The Art of Creature Design takes place at Gnomon's Hollywood campus from 12-4pm on Saturday 5 November. The live event is free to attend, but you'll need to register in advance.
If you can't make it to LA, the event will also be broadcast worldwide on Gnomon's Livestream channel. You don't need to register for the stream, and can ask questions via Twitter using the hashtag #gnomon.
Read more about Anatomy Lab: The Art of Creature Design on Gnomon's website

Watch Anatomy Lab: The Art of Creature Design

Full disclosure: CG Channel is owned by Gnomon – School of Visual Effects, Games and Animation.
Tags: Allis Markham, Anatomy Lab: The Art of Creature Design, Andrea Adams, animal anatomy, animal sketching, Concept Art, creature design, free, Gnomon, Gnomon - School of Visual Effects Games and Animation, Gnomon School of Visual Effects, Jerad Marantz, Krystal Sae Eua, livestream, masterclass, Mollie Hogan, Natural History Museum, Nature of Wildworks, Prey, sculpting, taxidermy, The Mill, Tim Bovard, Training, tutorial, watch free online, workshop, ZBrush