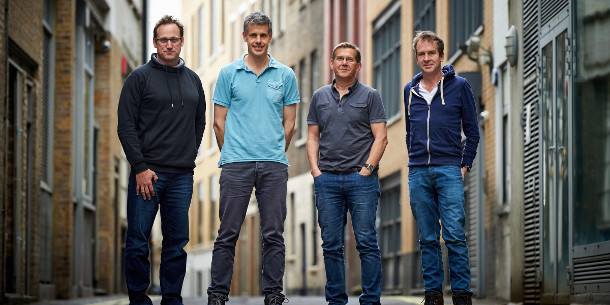 New partners: from left to right, The Foundry senior executives Brad Peebler and Bill Collis; Nic Humphries of HgCapital, the firm's new majority investor; and The Foundry chief scientist Simon Robinson.

The Foundry has a new owner – but contrary to last month's reports in the UK press, it isn't Adobe, or indeed, any other large software developer.
Instead, private equity firm HgCapital has taken over a majority shareholding in the company from previous backer – and fellow equity specialist – The Carlyle Group.
The deal values The Foundry at £200 million ($312 million).
In an email to CG Channel, The Foundry confirmed that the reported Adobe deal "had always just been a rumour" and described the change of ownership as "the ideal outcome for us".
Little change likely in the short term
On paper at least, the acquisition does look to be a good one for The Foundry – and certainly better than the Adobe or Autodesk buyout that many users of community forums have been gloomily predicting.
Although it hasn't previously invested in the media and entertainment sector, HgCapital does have a track record of backing technology companies: mainly developers of financial and business software.
Other previous investments include film production and distribution company Eagle Rock Entertainment.
HgCapital also seems likely to retain its stake in The Foundry for longer than The Carlyle Group: some current investments in its technology and media portfolio date back as far as 2006.
"Knowing the direction we plan to take The Foundry, we identified that HgCapital was the ideal partner to build on what The Carlyle Group have helped us achieve," said Foundry CEO Bill Collis.
"[The HgCapital team] take a long-term view on investing and have an amazing track record in taking already solid companies to even greater levels of success … through investment, both in R&D and people."
Future investment in R&D – and even acquisitions?
For its part, HgCapital praised The Foundry's core management team, all of whom remain in their current roles.
The firm also cited The Foundry's ability to "constantly innovate" and to develop "exciting disruptive technologies", suggesting that it is unlikely to have to scale back on product development and R&D work.
Business as usual, then? Well, perhaps not quite – but not in the way that many pessimists had feared. Speaking to fxguide, Collis hinted that The Foundry may even be looking at acquisitions of its own in future.
"With this deal, we remain one of the few independent companies focused on creative industries," he said.
"This lets us pursue our strategy [of] prioritising research and innovation; and teaming with other companies to create powerful collective solutions."
Read HgCapital's announcement of its majority investment in The Foundry
Tags: acquisition, Adobe, autodesk, buyout, HgCapital, majority investment, majority stake, price, sale, The Carlyle Group, The Foundry, Value