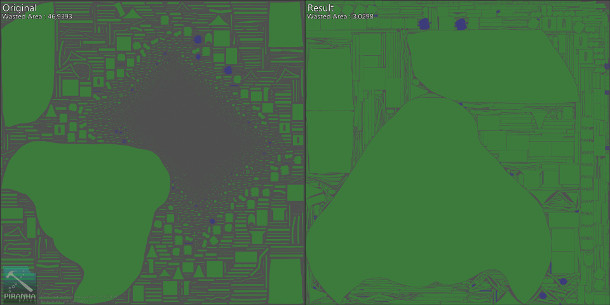 Before (left) and after (right) packing with IPackThat: Piranha Bytes technical artist Mario Röske's new tool runs iteratively to minimise wasted space in the UV layout of 3D models imported in a range of standard file formats.
Piranha Bytes technical artist Mario Röske has officially released iPackThat, his promising tool for automatically packing the UVs of a 3D model into the minimum possible amount of UV space.
Designed to give better results in less time than packing by hand, the software has steadily been incorporating features requested by games artists on Polycount since Röske first released a demo last August.
Iterative, user-controllable, efficient UV packing
IPackThat reads and writes 3D models in FBX, DAE, DXF, 3DS and OBJ formats, including multi-mesh OBJ files; and can handle multiple UV channels.
The software works iteratively, continually refining the UV packing to minimise wasted space. Users can specify a fixed number of iterations, or leave it to run until satisfied with the results.
In addition, there are a number of manual control options, such as enabling or disabling rotation of UV islands globally, or setting rotation steps for individual UV islands.
The software is multi-threaded; and suports batch compression via a separate XML file definition.
Pricing and availability
IPackThat is available for 64-bit Windows 7 via Steam, price $64.99. It's still officially in early access, but that's only expected to last for two weeks, and is largely a matter of tracking down any final bugs.
Read more about IPackThat on its Steam product page
Visit the IPackThat Facebook page
Visit the feature submission thread on Polycount
Tags: 3DS, automatic, DAE, DXF, FBX, Featured Articles, games, games artist, IPackThat, iterative, Mario Röske, OBJ, Piranha Bytes, price, texturing, UV island, UV packing, UV shell