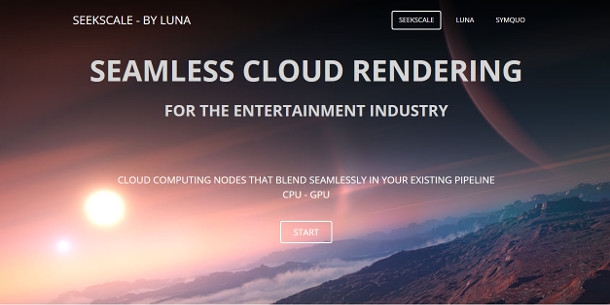 CG Channel is on holiday this week. While we're away, check out five technologies that caught our eye this year but that we never managed to cover. Today: an online render service that caters for all your custom tools.
Seekscale is the odd man out in this week's list of technologies to watch: it's a service rather than a tool. An on-demand cloud computing platform, it aims to fit its service to its clients' pipelines, not vice versa.
Rather than make users pick from a list of supported apps, its "on-demand nodes magically appear in your network, file system and farm management system, with all your software and custom stuff installed".
What is it?
An on-demand cloud computing service with a difference. Rather than making you work with the limited range of standard software it has available, Seekscale lets you install your own plugins and custom tools.
Why is it notable?
See above. Users send Seekscale the installers for the tools they want to use, and it creates clones of their own nodes in the cloud. All of the data transfer goes through a gateway on a local virtual machine.
The company tells us that a 200Mbps connection should be enough to run 400 cores in the cloud, even with everything going through a single gateway; and common security questions are addressed on its FAQ page.
Similar to?
Google 'online render farm', and you'll get dozens of results. There are fewer services catering specifically to high-end VFX, though, and some of those have recently been bought out, or closed their doors to new business.
Selling points?
Available on demand. Use any combination of software and plugins in the cloud, including proprietary tools. Designed for mid-to-large entertainment facilities. CPU and GPU options (Nvidia Tesla and GRID GPUs).
Key technical features?
Find an overview here.
Runs on?
Windows, Linux.
For?
Any tool you're running in house.
Price?
$0.21 per core per hour if you pay by the hour; as little as $0.035 per core-hour if you pay by the month and get a volume discount.
See it in action at:
You'll have to sign up to try it. Seekscale tells us that it is currently working with two undisclosed French studios: one in visual effects and one in commercials, both of 50-100 people.
Find more information at:
Visit the Seekscale website.
Normal news coverage resumes on Monday 30 June.
Tags: clone, cloud rendering, custom, Featured Articles, Five technologies to watch, node, on demand, online, plugins, price, proprietary tools, Seekscale, virtual machine, visual effects