Tuesday, July 31st, 2012

Posted by Jim Thacker
Our pick of Siggraph 2012's Emerging Technologies
ACM Siggraph has released a preview video rounding up the mind-boggling things on show in the Emerging Technologies exhibit at Siggraph 2012, held in Los Angeles next week.
Half the fun of visiting E-Tech is to try and separate the Next Big Things from those destined to disappear into obscurity (it isn't easy), and this year's line-up contains the usual mix of the brilliant and the baffling.
You can see Siggraph's official video above. Below, we round up our personal highlights.
In the 'obvious commercial potential' camp, the Shader Printer. This joint research project between three Japanese institutions and MIT effectively makes video projection mapping permanent.
The system uses thermochromic inks to 'print' 2D images onto 3D objects rewritably: one of the examples shown is of the Siggraph logo being printed onto, then erased from, a Converse-type trainer.
From rather further out in left field: Hand Rewriting. The University of Tokyo's system also uses thermochromic inks, this time in conjunction with UV-sensitive paper, to automatically correct mistakes in handwritten text.
When the writer makes a mistake, a laser mounted below the writing table erases the pen strokes, while a UV projector above fills in the corrected text. It also works to edit sketches.
Another joint Japanese-US research project, A Colloidal Display takes the prize for most beautiful demo.
The system projects video images onto a thin colloidal film like a giant soap bubble. You can control the display with sound and, amazingly, even poke objects through the 'screen', although it's not exactly durable.
But it is, as one YouTube viewer commented, only one step away from building the Stargate: so points for style.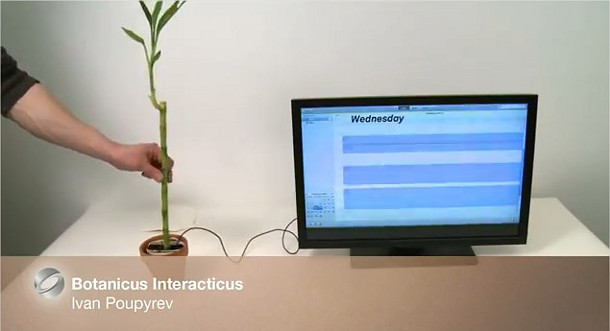 In the weird science category, Botanicus Interacticus uses the natural electric properties of plants to control software by… well, stroking a flower. To our intense disappointment, we couldn't find a decent video.
PossessedHand, in contrast, is just freaky. The University of Tokyo research project enables one user to wear a wrist cuff that sends electrical signals to the hand and finger muscles, and another to wear a data glove to…
…well, just watch the video. In the Middle Ages, it would have got you burned at the stake.
Pick your own favourite
There are a lot of other slightly less blue-sky technologies on show, including several you could see going into production in the near future, like real-time 3D HDR capture and 3D capture using multi-camera rigs.
And there's a lot of other weirdness, too. Listings for all the technologies on show can be found via the link below, including credits for the researchers: just follow it and take your pick.
Siggraph 2012 will be held at the Los Angeles Convention Center from 5-9 August.
Read a full list of projects on show in the Siggraph 2012 Emerging Technologies exhibit