Monday, March 26th, 2012

Posted by Jim Thacker
Share your demo reel with recruiters via Showreel.tv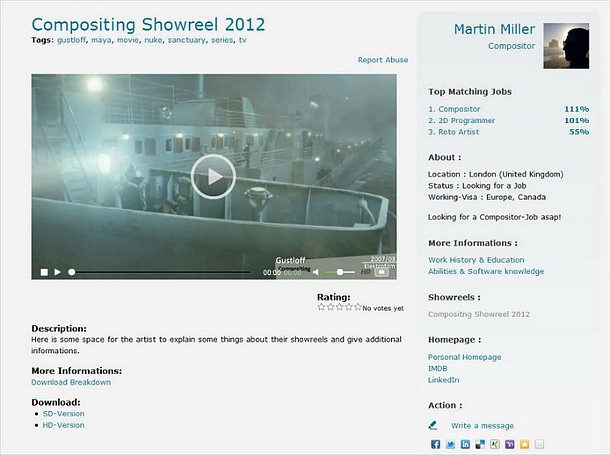 A dummy profile page for Showreel.tv. The free portfolio site launches officially early this week.
New startup Showreel.tv is offering a free online portfolio website where CG artists can upload their demo reels and apply for industry jobs.
On registration, artists are prompted for standard information about their skills and previous experience, which enables Showreel.tv to match their suitability to jobs recruiters have posted through the site.
Information can also be imported automatically from a LinkedIn profile.
Reels can be up to five minutes in length and 200MB in size, and there are a range of privacy settings to make a profile publicly visible, or only accessible to specific recruiters.
New jobs posted on the site are shared via Facebook, RSS and Twitter, and artists can also sign up for custom alerts for positions matching specific criteria.
The site is also designed to partly automate the process of job application so that artists only need supply a custom covering letter, rather than creating an entire new application for each vacancy.
Showreel.tv is currently live in beta, with the official launch due either today or tomorrow.