Monday, January 16th, 2012

Posted by Jim Thacker
Classic Andrew Loomis drawing books back in print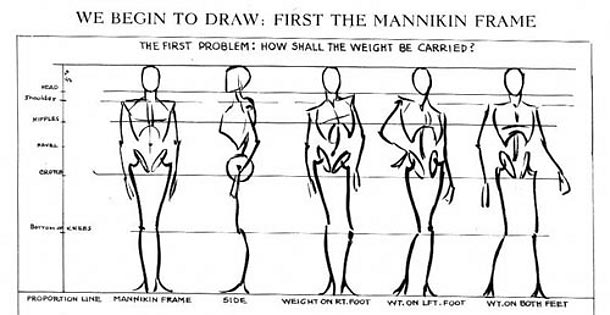 Part of a page from Andrew Loomis' classic art manual Figure Drawing For All It's Worth. The book, together with Drawing the Head and the Hands, has been reissued in a facsimile of its 1943 original by Titan Books.
Two classic Andrew Loomis books on drawing the human figure are back in print for under $30.
Titan Books has now reissued Figure Drawing For All It's Worth and Drawing the Head and Hands in facsimile editions of the originals. (A few months back, actually, but we've only just spotted them.)
First published in the 1940s and 1950s, the books are routinely cited by CG artists as some of the best – and best illustrated – guides to figure drawing, but went out of print in the 1970s.
For years, the only way to get hold of them was to download PDFs of scanned pages from enthusiasts' sites like Saveloomis.org.
Ironically, Saveloomis.org has now been hit by a 'cease and desist' letter from the Loomis estate, but the founder has started a new website for drawing reference books that are still in the public domain.
Titan Books is also reissuing a third Loomis title, Successful Drawing, in May.