Friday, December 10th, 2010

Posted by Jim Thacker
CityEngine Vue: instant 3D cities for just $299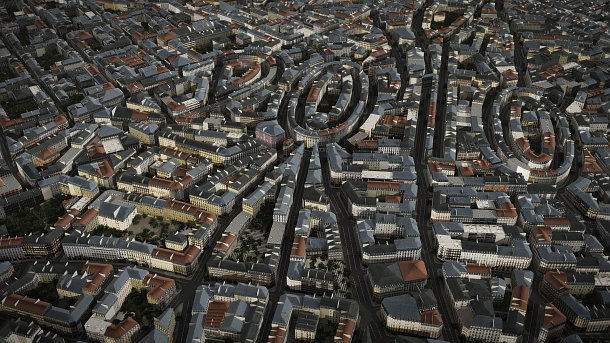 In one of this year's more interesting partnerships, Procedural has teamed up with e-on software to provide a version of its CityEngine automated city-modelling software optimised for Vue export.
CityEngine Vue costs just $299, or $199 for C.Club members of e-on's Cornucopia3D online marketplace (annual membership is $99.95, but it does give you discounts on a lot of other products).
According to this comparison chart, the feature set is identical to the $495 Indie edition of CityEngine, except that the software only exports in Vue's native .vob format, instead of .obj, .3ds and .dxf.
But if you only want to generate your own images, rather than integrating the software into a pipeline, that's a lot of tools for your money. Stand by more detailed cityscapes on CG gallery sites in the near future.
PRESS RELEASE (Excerpts)
e-on software, the leader in Digital Nature solutions and Procedural Inc., makers of the leading tool for 3D city creation, are jointly announcing the immediate availability of CityEngine Vue, a complete city modeling solution. CityEngine Vue enables Vue users to create large cities with a few clicks, and seamlessly integrate the detailed building or street models into Vue landscapes.
Key Highlights of CityEngine Vue
CityEngine Vue is standalone software with direct format export to all products of the Vue family (3D Artist and Professional solutions). With CityEngine Vue, users can:
Save time building complete 3D cities using industry-leading procedural technology,
Interactively try out different city designs (with immediate feedback),
Sketch streets and blocks with just a few clicks,
Copy real cities using data from OpenStreetMap.org,
Easily integrate 3D cities into Vue terrains and landscapes.
The software ships with tutorials, reference manuals and plenty of learning videos. For inspiration and as a starting point, several demo cities are available for free download within CityEngine. The demo cities include an ancient Pompeii reconstruction, a science-fiction version of New York City, a detailed medieval city, Paris style buildings, modern street templates, and many more.
Requirements, Pricing and Availability
CityEngine Vue retails for $199 (C.Club Member price – Non-member price: $299) and is now available for purchase on Cornucopia3D, e-on's community and content division.
CityEngine Vue is available in English for Windows XP, Windows Vista and Windows 7, for both 32 and 64 bit, and on Mac OSX 10.5 and 10.6 (64 bit Mac Intel only).