We've just added a new training DVD titles to the CG Channel store – Character Design for Games and Animation with Cameron Davis, Volumes 1 & 2.
In this first of two DVDs, Cameron Davis discusses character design at its most fundamental. He begins with basic design theory, color and shape, and shows how to use them to visually tell a story with a character. Beginning with a loose story, Cameron takes you through his thought process when designing for games or animation. From brainstorming to loose sketching, reference gathering and silhouette studies, Cameron shows all the stages of ideation and ends with a finished line drawing that is ready for color.
Video Preview

Chapter List
Warm-Up
Design Theory – Horns vs. Halos
Referencing Nature – Jocks vs. Stoners
The Final Design
Getting the Brief and Brainstorming
Building Visual Vocabulary
Focusing the Design
Thumbnails / Silhouette
Facial Studies
Refining Shapes and Materials
Tweaking Digitally / Thinking Graphically
Personality Sketch
Loose Turnarounds
Orthographic Front and Side / Final Line Drawing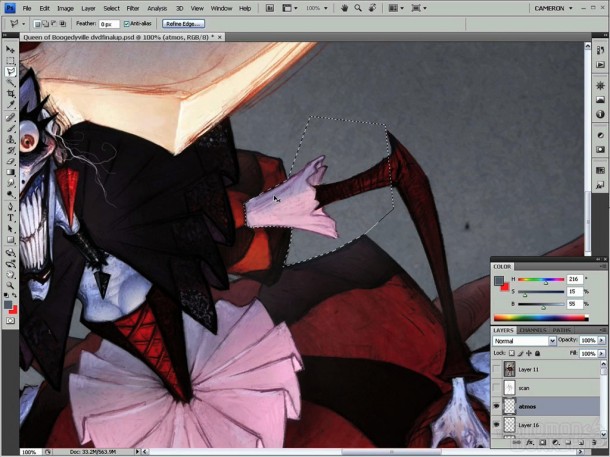 In this second of two DVDs, Cameron Davis discusses how he brings a character to life by fleshing out the design in Adobe Photoshop®. Not merely coloring, the design continues to evolve in the digital stage. Cameron takes you step-by-step through this process, covering Photoshop techniques, color studies and color theory, and understanding the psychology of audience reaction.
Chapter List
Brushes
Clean-Up
Material Selection
Color Studies
Matching Colors to Thumbnail
Rendering
Next-Level Details
Dropping a Background
Defining Shapes in Space
Making it Sing
About Cameron Davis
Born in Hillsboro, Oregon, Cameron attended the Rhode Island School of Design (RISD) and graduated with a BFA in illustration in 2005. After an invaluable internship at Design Studio Press he was offered a job as a concept artist at Neversoft Entertainment working on such video game titles as Tony Hawk and Guitar Hero. Cameron has worked with Activision, McFarlane Toys, Earache Records, Rhythm and Hues, and Psyop Animation to name a few. He enjoys telling stories.