Monday, January 20th, 2003

Article by Jean-Eric Hénault
Interview with the Co-founders of Syndrome Studios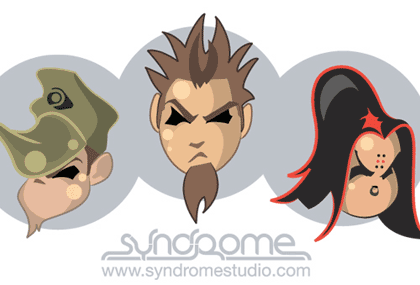 James Larese, Micah Hancock, Mars Sandoval
These are some of the most creative people I've ever had the chance to talk to. They live and breathe art in many forms and shapes. This should be a great inspiration to all of us. Out of nothing they are able to create anything, in ways you would not suspect. Introducing Syndrome Studios.
CGC: Could you begin by telling us about yourself and your crew and the role they play within Syndrome?
SS: Syndrome is made up of three members, Mars Sandoval, Micah Hancock and James Larese. Located in Los Angeles, we are a multi-discipline design collective built upon the idea of collaboration and focused on creating quality artwork for all forms of media.
Each member of Syndrome has his own set of specialized skills, but by combining our forces, the potential for what we can create is limitless. For example, Mars' main strengths are 3d design and compositing, Micah's are typography, vectors, and motion design and James' strengths are concepting, illustration, and photography. While these are our primary strengths, we are not necessarily always confined to these roles, as each project is a fully collaborative process and requires us to constantly trade hats and explore each others realms. From the beginning of each project, we map out how our styles will work within the context of the piece as a whole and then set out to combine them in the best way possible. Fortunately, we work well together as a team and our individual styles compliment one another.
CGC: Now, tell us about Syndrome, how and when did it all begin?
SS: Going all the way back, we've been creating our whole lives, since birth really. Over the years, each of us progressed though traditional art and graffiti, finding our true home in digital art. We kind of met by chance and have known each other for about six years. We had been separately following similar paths developing as artists, so we naturally gravitated toward each other. Big fans of each other's work since day one, we motivated and pushed each other, encouraging each other to take their own concepts, styles, and techniques to the absolute limit. Creating this environment of synergy and creative energy, it was only natural for us to join forces. This sparked the creation of Syndrome.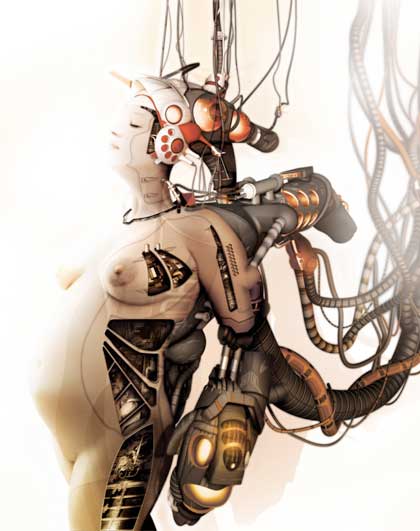 A "Motherboard" like you have never seen before…
CGC: Where does the name come from?
SS: Syndrome, by definition, is a group of signs and symptoms that occur together and characterize a particular illness. Our illness is that we all have the deep and undeniable craving to constantly create, reinvent, and push ourselves to the next level. It's like an addiction; we are fiends that cannot stop . . .we absolutely need to create. It is the soul essence of who we are, the passion that drives us, our life's work.
CGC: Give us examples of high-profile projects you've worked on?
SS: We treat every project, no matter what scale, as a high-profile project. We firmly stand behind our work and take a large amount of pride in each piece that we produce. Some projects that stand out include a motion graphic piece that will be presented on a massive outdoor video screen covering a half-mile of Fremont Street in downtown Las Vegas. We also created a video piece, assembled a DVD, and produced the print campaign for the Madmixer (www.madmixer.net) design exhibition/party in February. This event began in Los Angeles, traveled to San Francisco and will continue on to Sydney, Australia and Barcelona, Spain. In addition, we are currently hard at work creating the entire broadcast packaging for three different shows that will air on MTV and VH1 this summer. Unfortunately, many of our projects are under terms of non-disclosure, so we really aren't at liberty to discuss some of them here.
CGC: What attracts you the most to the world of visual arts?
SS: Simply put, creating; forming something out of nothing. It's really exciting for us to get together, formulate and explore a concept and then just jam and make it happen; turning an idea into a visual reality is a thrilling experience. In addition, the possibilities are mind-boggling, as there are no rules or boundaries to the visual arts. You can take it as far as you want to.

CGC: You seem to be able to play with many different mediums and combine them to create something very unique. What are they?
SS: We try to bring the best of everything into our work: highly detailed 3d, intricate vector art, illustration, original typography and fonts, our own photography, motion graphics and sound design. We handle it all and try to excel at creating each of these separate elements and then seamlessly integrate them together to create our art. Our canvas is basically anything that has a surface that artwork can be applied to, whether it be video, printed matter, clothing, installation, whatever.
CGC: Your work transcends, breathes "High-Tech", where do you find your inspiration for your work?
SS: It sounds cliche, but everything that surrounds us inspires and influences us. There are so many visual possibilities out there sometimes it is overwhelming. Everything from a ripped up sticker to graphics on a rusted out van to the city skyline to the signage we pass driving everyday. We try to take basic ideas, usually derived from simply looking at something, an object for example, and expand and visually build upon them. Creating a story behind them, building pieces that come out of them, or breaking them into graphic shapes; ideas are everywhere if you look closely enough. As far as influences, there are far too many people to try to narrow down into a single list without leaving some important names out. But, in broad terms, we have certainly been influenced by music, film, graffiti, anime, technology, comic books, and the whole legacy of traditional art.
CGC: What are the tools you use to put all this together?
SS: We do it all in Simpletext. . . ha ha, just kidding. Basically, when it comes to our artwork our philosophy is to create it by any means necessary. We try to keep a hands-on approach and not to get caught up in our tools, thereby limiting us to what those tools are capable of. On a single project we may alternate between high-end software like Maya and After Effects to more low-tech equipment like spray paint, pens and stencils. That being said, nearly all of our work does end up in a digital format; working digitally plays heavily in our creative thinking process and allows us a great deal of flexibility and control that would be otherwise unattainable. Specific programs we use are Maya, After Effects, Final Cut Pro, Freehand, Illustrator, Photoshop . . . and Simpletext ?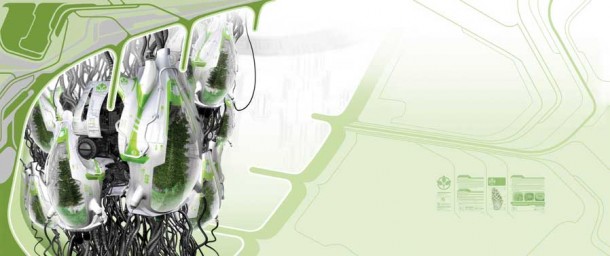 CGC: What is your proudest achievement so far?
SS: The proudest achievement for just is the formation of Syndrome studio. It has been an exciting and rewarding experience to hook up and collaborate with like-minded, motivated, and talented individuals who are also great friends. It has been a lot of fun so far and we cannot wait to see what the future has in store for us.
CGC: During our phone conversation, you mentioned you were the host of an artistic event in Los Angeles this fall. What is it all about?
SS: Once a year, We put together an art exhibition called Not Yet Realized. The first event, last September, was a huge success, with a turnout of over 700 people and an overwhelmingly positive response. It began as idea to create a forum for us to show our digital work in the context of fine art. Always hacking away in the studio, we just wanted to be able to physically present our work to an outside audience and see what kind of reaction it got out of people. Additionally, we wanted to bring together a diverse range of other artists whose work we admire and have inspired us in our own creative development. Our hope is to ignite continued creative collaborations between artists in different fields, from design to architecture to graffiti art. By uniting artists with a wide range of talents, we feel that many new dimensions of visual possibilities will be opened up for exploration. For more information about the show check out www.notyetrealized.com.

Many thanks to everyone at Syndrome Studios for making this story possible.
Related Links: