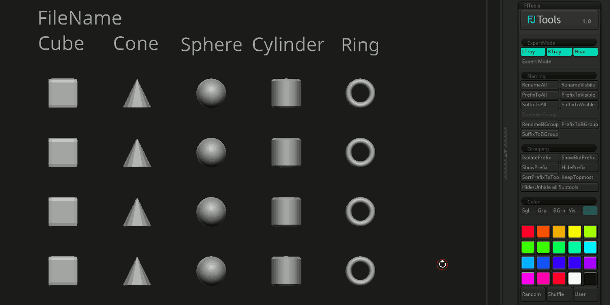 Originally posted on 16 January 2018. Scroll down for news of the 1.5 update.
Games artist Florian Jonas has released FJTools 1.0, a handy free ZBrush plugin that provides a range of options for organising SubTools, including bulk renaming, sorting and colour coding.
Batch rename, sort and colour code your ZBrush SubTools
The most useful aspect of FJTools is probably the bulk renaming functionality, which enables users to batch-rename SubTools, or to append a prefix or suffix to the names.
Renaming can be done on all SubTools, only those within a Boolean group, or only those currently visible.
Once renamed, FJTools can sort SubTools by prefix, or display or hide only those with a given prefix.
The plugin can also be used to colour code SubTools via PolyPaint, assigning colours to individual SubTools; to prefix, Boolean or visibility groups; or even just generating a random colour for each one.

Updated 13 August 2020: Florian Jonas has released FJTools 1.5, the latest version of the add-on.
New tools include EasyExtract, which extracts low-res geometry from masked areas of a sculpt, and EasyRebuild, a one-click option for remeshing a sculpt and projecting details onto the low-res asset.
There are also a number of other new modelling tools, plus updates and workflow improvements to existing toolsets, particularly to renaming: you can find a full list of changes via the links below.
The update also makes FJTools – first released for ZBrush 4R8 – compatible with ZBrush 2019 and above.
System requirements and availability
FJTools 1.5 is available for ZBrush 2019-2021. The plugin can be downloaded for free from Florian Jonas's Gumroad store by entering a figure of $0, although you can also choose to make a voluntary donation.

Find a full list of new features in FJTools 1.5 on Florian Jonas's ArtStation gallery
Download FJTools from Florian Jonas's Gumroad store
Tags: add-on, batch rename, color coding, download, EasyExtract, EasyRebuild, FJ Tools, FJ Tools 1.5, FJTools. FJTools 1.5, Florian Jonas, free, generate low-res mesh from high-res sculpt, plugin, Remesh, rename, retopologize, sort SubTools, SubTool, ZBrush