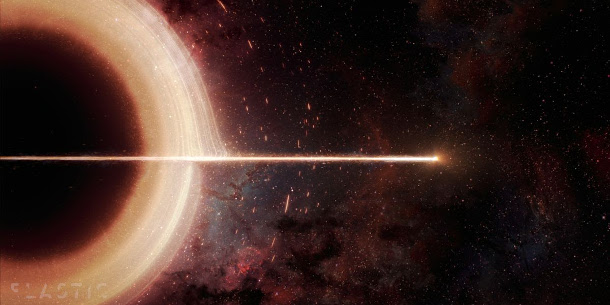 Otoy has officially launched RNDR, its innovative distributed GPU rendering network for users of OctaneRender, its GPU production renderer.
The platform, which has been in closed beta for two years, enables OctaneRender users to perform renders in the cloud, or to make their own machines available to other users in exchange for render credits.
As well as the original public peer-to-peer network, a new Enterprise tier enables studios to render online via private, higher-security TPN-certified nodes.
The RNDR network was launched publicly in parallel with OctaneRender 2020.1, the latest stable release of the software, and is available to users with current subscriptions or maintenance contracts.
Launch renders in the cloud – or earn credits by rendering other people's frames
Originally unveiled in 2017, RNDR is a distributed GPU rendering network built on the Ethereum blockchain.
Unlike ORC, Otoy's existing cloud-based rendering platform, which it replaces, it enables users to earn render credits as well as spend them, by making their GPUs available to the public peer-to-peer network.
Payment was initially handled via MetaMask, Ethereum's online payment gateway, but with the public launch, it is possible to buy credits via PayPal or Skype as well as using a cryptocurrency wallet.
A familiar workflow for launching cloud renders
Launching a render job via RNDR works in pretty much the same way as any cloud rendering service.
Users export the scene to be rendered in OctaneRender's ORBX file format, then set job parameters like the frame range to be rendered, render resolution and sample count via their online RNDR account.
Jobs are priced according their OctaneBench score, which reflects the GPU compute capability necessary; and according to the required turnaround time and security of the render node on which it will be run.
Make your computer a 'miner' to earn online credits
The unusual part of RNDR is that users can also elect to become 'miners', making the GPUs in their own machines available to other users as cloud render nodes.
Once a job has completed, the submitter has 72 hours to review the rendered frames and to approve or reject them – which automatically re-runs the frames on another node using the same settings.
Until a job has been approved, the submitter only has accesss to a watermarked version of the rendered frames, while the payment for the work is held in escrow.
On approval of the work, the render credits are released from escrow, and transferred to the miner's account.
A reputation-based system reduces the risk of users gaming the system
Both submitter and miner develop reputation scores based on the outcome of previous render jobs.
In the case of the miner, reputation is reduced if their machine fails to adequately render jobs that other nodes have tackled successfully, encouraging the miner to maintain up-to-date hardware.
In the case of the submitter, reputation is reduced by rejecting jobs rendered on previously trustworthy nodes, minimising the risk of jobs being rejected spuriously.
Higher reputation scores enables submitters to access more render nodes simultaneously, while higher-reputation miners can earn more credits for successfully completing a job.
Three usage tiers provide varying job security, priority and performance
RNDR provides three usage tiers, the highest-priced being the new Enterprise tier, which provides studios with access to secure TPN-certified nodes, built on the Microsoft Azure platform.
Each comes with eight Nvidia Tesla V100 data center GPUs and 500GB of system RAM.
Below that, the public tiers use the peer-to-peer network, with the higher tier providing users with access to nodes with better system specs, and ensuring that their renders are allocated higher priority.
The lower tiers are priced dynamically according to demand on the network, and provide users with a multiple of the OctaneBench hours available through the enterprise tier.
By choosing a lower tier, users get more rendering power for each credit they buy, but at the expense of longer potential turnaround times and of jobs running on nodes with lower reputations.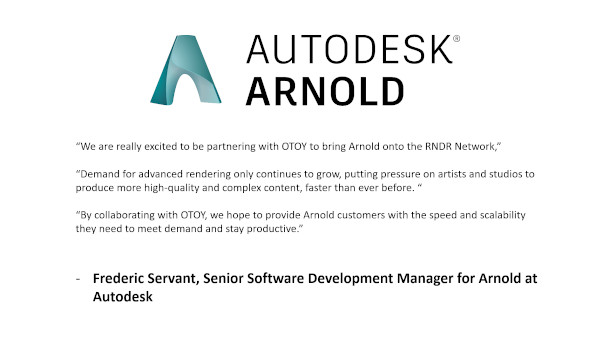 Available for Arnold as well as OctaneRender in future
Although RNDR is currently available only to OctaneRender users, Otoy has also announced that in future it will be possible to launch Arnold renders on the network.
The work, which is being done in partnership with Autodesk, is part of a wider initiative to make Arnold's Standard Surface shader a standard material across all of Otoy's software.
Pricing and system requirements
The RNDR network is available to OctaneRender users with an active subscription or maintenance plan. Find details of current OctaneRender pricing and system requirements in our story on OctaneRender 2020.1.
According to the RNDR website, the miner client is Windows-only, and requires a Nvidia GPU with at least 8GB of VRAM, plus 32GB of system RAM.
Render credits can be purchased via PayPal or Stripe. Each costs €1/$1 and provides 100 OctaneBench hours of rendering when using RNDR's Enterprise tier.
Render tokens can be purchased via an Ethereum MetaMask wallet, and are equivalent to 0.25 credits.
However, at the time of posting, the website hasn't been updated to reflect the fact that RNDR is out of beta, so check the online FAQs and online manual for updates.

Access Otoy's RNDR GPU render network
(Requires an OctaneRender user account)
Tags: Arnold, autodesk, blockchain, cloud rendering, distributed rendering, earn render credit, Ethereum, FAQs, GPU rendering, maintenance, MetaMask, Microsoft Azure, miner client, OctaneRender, OctaneRender 2020.1, Otoy, peer to peer, price, render credit, render token, RNDR, Standard Surface shader, subscription, system requirements, TPN certification