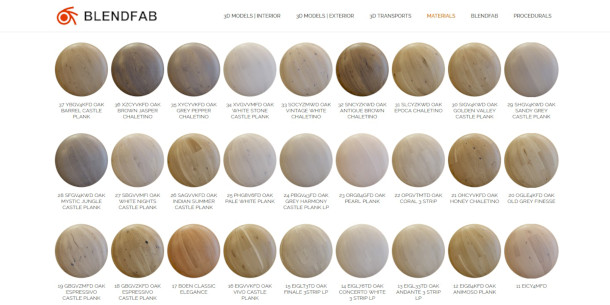 Originally posted on 7 July 2019. Scroll down for updates.
Latvian architectural visualisation firm Indizains has launched BlendFab, a library of over 800 free online Blender models and materials.
The files are licensed for commercial use, providing you credit the source.
Over 800 free visualisation models and real-world materials, provided as .blend files
The assets on BlendFab are also geared towards visualisation work, and include 3D models of furniture, plus fittings like taps and sinks, based on real-world brands.
There are also some nice 3D vegetation models: both trees and pot plants.
The library also features a set of PBR materials, again some based on real-world architectural products, plus more generic wood and fabric materials.
The models were first released earlier this year via Indizains' own website, but have since moved to a dedicated site of their own.
At the time, there were 797 assets, but that didn't include the materials, so the total must now be comfortably over 800. More new assets are being added steadily.
If you like the files, you can support work by sending a voluntary donation.

Updated 25 August 2019: BlendFab is now up to over 2,000 free assets.
The developers have also released BlendFab Synchronized Asset Manager, a paid product that automatically syncs the resources on the site with your local PC.

Updated 10 October 2019: BlendFab now has over 6,000 free models and materials, plus 2,000 textures.
Paying for synchronisation now also provides access to assets for a range of other DCC applications and game engines, including 3ds Max, Cinema 4D, SketchUp, Unity and Unreal Engine.

Licensing and system requirements
BlendFab models and materials are compatible with Blender 2.79+. They can be downloaded individually or via the BlendFab Synchronized Asset Manager add-on for Blender 2.80.
The asset manager itself is a free download, but synchronising local copies of models with the assets online costs €25/year or a one-off payment of €100. You can find more details here.
Assets can be used in non-commercial work without restriction, or in commercial work by crediting BlendFab.
According to the site's Regulations page, "approvals have been provided for all of our 3D model collections and textures that are used in materials" from the companies on whose products the assets are based.
Download free Blender models and materials from BlendFab
Tags: 3D model, arch viz, bath, Blender, BlendFab, BlendFab Synchronized Asset Manager, commercial use, download, fabric, flooring, free, furniture, houseplant, Indizains, material, PBR, plant, sink, system requirements, tap, tree, visualization, wall, wood