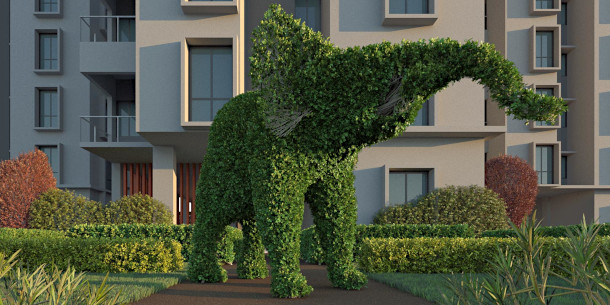 Plugin developer Happy Digital has released Autohedge, an interesting new hedge and bush-generation tool for 3ds Max.
Aimed at architectural visualisation and illustration work, the plugin automatically generates vegetation to fill any selected mesh, rendering directly in the V-Ray Advanced renderer.
Generate hedges matching 18 real-world plant species to fill any 3ds Max guide mesh
Autohedge automatically fills any guide mesh selected in 3ds Max with procedurally generated 3D vegetation. The main branches are generated as geometry; twigs and leaves are added at render time.
To adjust the results, users can edit the guide mesh, with Autohedge re-generating the vegetation in real time; or adjust overall control parameters for density and 'messiness'.
The vegetation materials are based on photographs of plants commonly grown as hedges, including privet, box, fig and myrtle, with 18 species included as part of the plugin.
Pricing and system requirements
Autohedge is available for 3ds Max 2016+ and V-Ray 3.6+. It costs $149. The software is also available as part of a product bundle with Happy Digital's other 3ds Max plugin, Autograss.
Read more about Autohedge on Happy Digital's website
Tags: 3ds max, add-on, arch viz, architectural visualization, Autohedge, bush, Featured Articles, generate hedge based on guide mesh, Happy Digital, hedge, plant generation, plant generator, plugin, price, system requirements, V-Ray