Adobe has teamed up with physical notebook firm Moleskine to launch the Moleskine Paper Tablet – Creative Cloud Connected edition, a new 'smart notebook' designed to work with Adobe Illustrator.
Artists can create pen-and-paper sketches in the notebook using Moleskine's Pen+ Ellipse digital pen, then tap the symbols at the top of each page to send the design to Adobe's software.
The new product – part of an ongoing collaboration between the two firms – was actually announced last week, but with all the news coming out of GDC 2019, we've only just got around to covering it.
A new Moleskine Paper Tablet targeted at designers, not note-takers
Moleskine's Paper Tablet range is a series of physical notebooks the shape and size of digital tablets.
An infra-red camera in the accompanying Pen+ Ellipse smart pen tracks subtle patterns printed on the paper, enabling the pen to store a digital copy of anything drawn physically in the notebook.
Moving the pen over a printed symbol at the top corner of the page transfers the digital copy to a desktop PC or laptop via Bluetooth.
Moleskine has been selling the notebooks for a few years now, although in a form primarily targeted at general note-taking and doodling.
In contrast, the new Creative Cloud Connected edition is targeted at graphics professionals, with the design being exported to Illustrator as editable vectors, complete with a history stack.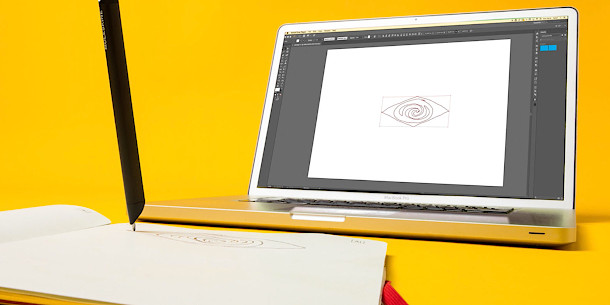 Sync the physical notebook with Illustrator running on your desktop or laptop
Adobe and Moleskine have been working on similar technology for some time now: the free app Moleskine for Creative Cloud lets users photograph sketches on an iPhone or iPad to send to Adobe software.
In the app, the image is generated as a bitmap before conversion to vector format for export.
In contrast, the Paper Tablet system can capture individual pen strokes directly as vectors, and save them to separate layers within Illustrator, making it possible to undo changes.
For artists working on the move – and out of range of their desktop machine – a static SVG file can also be uploaded to Creative Cloud to retrieve later.
Can the new Paper Tablet succeed where Wacom's Inkling failed?
Regular readers may remember that the Creative Cloud Connected Paper Tablet isn't the first hybrid physical/digital drawing system to be marketed at professional artists.
Wacom had a go at the start of the decade with its now-defunct Inkling, which worked via a camera that clipped to the top of a standard notebook.
The Paper Tablet avoids one criticism made in reviews of the Inkling – that it was easy to knock the camera accidentally while drawing.
It also has a new selling point, in the form of that layer stack of individual strokes.
However, as with the Inkling, a lot of its usability as a professional tool will come down to how accurately it records strokes, and how good the experience of drawing using the Pen+ feels.
Early reviews suggest that this may still be an issue: The Verge describes the Pen+ Ellipse as "not my choice of drawing tool" and TechCrunch says that the vector strokes "require a lot of cleaning up".
And is it a better alternative to Adobe's own Illustrator Draw?
Adobe also has a pretty good existing solution for getting sketches made on the move into Illustrator, in the shape of its free app Illustrator Draw, which enables users to sketch on an iPad or Android tablet using an Adobe, Adonit, Apple or Wacom stylus, then sync the results to the desktop version of the software.
Ultimately, whether the new Paper Tablet succeeds may depend simply on how many people are determined to keep drawing on paper rather than a computer screen, and how much they are prepared to pay to get their drawings into Illustrator in a more editable format.
Pricing and system requirements
A Creative Cloud Connected Paper Tablet costs $34.95. Moleskine's Pen+ Ellipse costs $179.
The Moleskine+ Extension for Illustrator is free, and is compatible with Illustrator 2017+, but is currently available only for macOS: a Windows version is due "soon".
Illustrator itself is available rental-only via a subscription to Adobe's Creative Cloud, which starts at $20.99/month for a subcription to an individual app.

Read more about the Paper Tablet – Creative Cloud Connected edition on Adobe's blog
View the Creative Cloud Connected Paper Tablet in Moleskine's online store
Tags: Adobe, app, convert physical sketches to vectors, Creative Cloud Connected Paper Tablet, digital pen, digital sketching, Featured Articles, free, hybrid, illustrator, Illustrator Draw, Inkling, iOS, iPad, iPhone, layers, macOS, Moleskine, Moleskine for Creative Cloud, paper notebook, Paper Tablet - Creative Cloud Connected, Pen+ Ellipse, price, stroke history, SVG, system requirements, Wacom