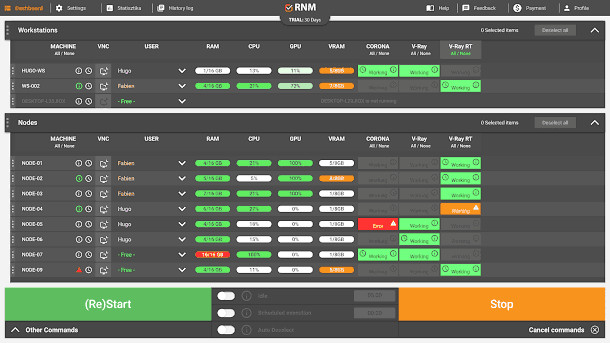 Hungarian developer Asolve has launched Render Node Monitor 2.0, the latest version of its cloud-based render-management tool for 3ds Max, V-Ray and Corona Renderer.
The platform is intended to be an intuitive render-management solution for freelancers and smaller studios.
Monitor 3ds Max render nodes via an intuitive virtual desktop
Render Node Monitor was first released in 2016 as a simple tool for monitoring render nodes.
You can see a range of user testimonials on the homepage of the product website, mainly from small-to-mid-sized architectural practices and architectural visualisation firms.
Version 2.0 – it actually came out in June this year, but we didn't spot it until the developers contacted us – extends Render Node Monitor into a broader-featured render manager.
A colour-coded virtual dashboard shows the status of render nodes, along with diagnostic information like RAM, CPU, GPU and VRAM usage.
If a render error occurs, users are notified by email, SMS or Asolve's Android app. A remote desktop system then makes it possible to fix or relaunch jobs manually.
Asolve says that it is working on an iOS app and an autofix system for common errors.
Users can also use the virtual dashboard to defrag machines or to turn off hibernation or Windows updates, with the option to schedule commands in advance.
Pricing and availability
Render Node Monitor 2.0 is compatible with 3ds Max 2015 and above, including Max's native Backburner render farm manager; V-Ray, up to version 3.60.04; and Corona Renderer, up to version 2.
That's for render error detection, but basic monitoring works with any 3D application. Asolve says that it is working on full support for V-Ray Next and Corona Renderer 3 for 3ds Max.
The service is subscription-based and priced at $5/machine/month or $40/machine/year. Subscriptions include one hour's use of the remote desktop per machine per month.
Read more about Render Node Monitor on the product website
Tags: 3ds max, Asolve, cloud-based, Corona Renderer, Featured Articles, price, render managment, Render Node Monitor, Render Node Monitor 2.0, renderfarm management, system requirements, V-Ray, virtual desktop