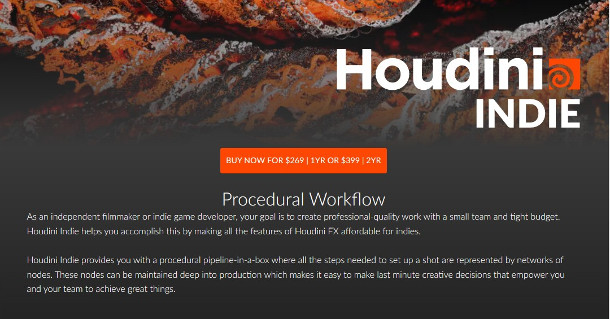 SideFX is to provide all users of Houdini Indie, the subscription-only edition of its 3D software aimed at indie animators and game developers, with a free supplementary licence.
The firm has also relaxed the resolution cap on animations rendered in Houdini Indie, and slightly raised its rental price.
A reduced-price version of Houdini FX's toolset for artists earning under $100,000/year
Originally released in 2014, Houdini Indie provides artists with gross incomes under USD $100,000/year with access to the full toolset of Houdini FX at a reduced price.
There are restrictions: it saves in its own .hiplc and .hdalc file formats, so you can't exchange assets with the standard versions of Houdini, and studios can only buy a maximum of three licences.
However, it's still a powerful tool for the price, particularly since that it now supports third-party renderers and that you can get the Indie version of Houdini Engine for free.
Free supplementary licence for home use, render resolution raised to 4K+
On top of that, SideFX has now relaxed the cap on the maximum resolution of image sequences rendered in Houdini Indie from 1080p to 4,000 x 4,000px, making it possible to create 4K and VR content.
The firm also plans to issue a free supplementary licence to all Indie users, enabling them to install Houdini Indie on a second computer, or to work in dual-boot mode on a single machine.
It isn't quite two for the price of one, since you can only use the software on one of those machines at a time, but it does mean, say, that you can work from home without having to bring your office workstation.
The rental cost is also rising, from $199/year to $269/year, although there is also now a two-year subscription priced at $399, so you can actually still get the old rate if you sign up for two years.
Pricing and availability
Houdini Indie is available for Windows 7+, Mac OS X 10.10.2+ and a range of Linux distros. It is available rental-only, and costs $269/year or $399 for two years.
The supplementary licence will be available with all new sales of the software; SideFX says that existing users will get the home license added to their license entitlements by 20 February 2018.
The increased render resolution takes effect in Houdini 16.5.378, and will not be ported back to older builds.

Read about the new licence conditions for Houdini Indie on SideFX's website
See a comparison table between Houdini Indie and other editions of the software
Tags: 4K, extra licence, FBX, free, free licence, game development, Houdini 16.5.378, Houdini FX, Houdini Indie, indie artist, indie developer, level of detail, limitations, LOD, price, restrictions, SideFX, subscription, supplementary licence, UV, UV Flatten, UV packing, UV unwrapping, VR