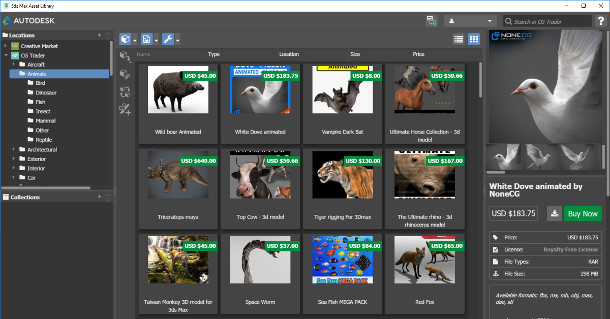 Originally posted on 2 May 2017. Autodesk has now announced that the Asset Library will discontinued on 13 January 2022, with both new downloads and customer support ending on that date.
Autodesk has released 3ds Max Asset Library 1.5, the latest version of its free 3ds Max add-on for browsing 3D content across both a local machine and a network in a single view.
'Deep search' for suitable assets across your entire network
The add-on enables users to 'deep search' for suitable assets using properties like face count, renderer type, or the versions of 3ds Max they support; and import, merge or XRef them into a Max scene.
If you use 3ds Max 2017.1 or above, you can even drag and drop images onto map slots in the material editor.
New in version 1.5: search content on CGTrader directly inside 3ds Max
The 1.5 update is mainly cosmetic, bringing the design of the library's UI in line with that of 3ds Max itself.
However, it does add one new feature: the option to search for stock content on online marketplace CGTrader from directly within 3ds Max itself.
As far as we're aware, that makes CGTrader the first external marketplace to be supported in this way, Autodesk previously having limited searches to its own Creative Market site.
Read more about the 3ds Max Asset Library on Autodesk's App Store
Tags: 3ds Max Asset Library, 3ds Max Asset LIbrary 1.5, add-on, asset, autodesk, browse, CGTrader, Creative Market, deep search, discontinued, end of support, free, model, plugin, search, stock content